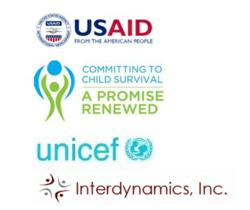 Washington, DC (PRWEB) June 03, 2013
Interdynamics Inc joined forces with the United States Agency for International Development (USAID), in collaboration with the United Nations Children's Fund (UNICEF) to launch the Behavior Change Evidence Summit for Child Survival on June 3–4 to ensure that effective evidence-based practices can be utilized to end preventable child deaths and ensure healthy growth and development. The Summit brings together global leaders to determine what is needed to change health-related behaviors in lower and middle income countries (LMICs) and reduce under-five mortality.
The Summit is more than a specific event; it is a part of an extended process that will result in important products and action plans for policy, programmatic and research recommendations grounded in scientific evidence, resulting in positive behavior change and increases to child survival in developing nations. Country-level ownership of this process is vital, and the summit seeks to create ways to strengthen national and local capacity. Every child – no matter where they live – deserves a 5th birthday.
This year, nearly 7 million children will die before they turn five. While most of these children are in sub-Saharan Africa and South Asia, many countries worldwide are falling short of achieving the United Nations (UN) Millennium Development Goals focused on reducing child mortality and improving maternal health. Most of what needs to be done to bring down the rate of child deaths is known — getting children to sleep under a bed net, and ensuring they receive life-saving vaccines and nutritional supplements — but the social and behavioral barriers can be complex.
"We have the technology and know-how to change this brutal fact of life," said Dr. Rajiv Shah, Administrator of USAID. "In the 1000 days leading up to December 2015 deadline for the Millennium Development Goals, new vaccines against diarrhea and pneumonia, bed nets for malaria, and nutritional supplements for pregnant women and young women, could save nearly 4.4 million children. Life-saving tools must be widely accessed and properly used at the correct time. This requires a sustainable shift in health-related behaviors."
"Interdynamics is pleased to participate in USAID's global efforts to identify strategies to affect real change in the promotion of child wellness. We are confident that these efforts will result in the increase of international child survival and development. Active prenatal and maternal support, together with early identification projects will undoubtedly improve outcomes and efforts to reduce mortality with children under the age of five," said Joan Branch, President and CEO of Interdynamics Inc.
Since the Child Survival: Call to Action last June, more than 172 governments, 400 civil society organizations, and 220 faith-based groups have committed to reducing under-5 mortality from preventable causes. At the Call to Action, hosted by the Governments of Ethiopia, India, and the United States, in close collaboration with UNICEF, world leaders in attendance embraced the strategic shifts necessary to speed up progress in reducing preventable child deaths. Now, nearly one year later, almost two hundred experts are joining together to develop evidence-based recommendations to ensure we effectively meet these commitments. These "evidence-to-action" recommendations will seek to drive shifts in policy, programs, and research.
About the Population-Level Behavior Change Evidence Summit for Child Survival
On June 3-4, 2013, the United States Agency for International Development (USAID), in collaboration with UNICEF, is hosting an evidence-based summit to examine research for effective interventions and strategies required to support a sustainable shift in health-related behaviors for populations in LMICs to reduce morbidity and mortality in children younger than 5 years old. The Summit is sponsored by UNICEF, National Institute of Mental Health, Eunice Kennedy Shriver National Institute of Child Health and Human Development, the Centers for Disease Control and Prevention, The Communications Initiative Network and the American Psychological Association.
USAID is committed to an evolving model of partnership with those we serve around the world. We recognize that sustainable solutions for global challenges are a joint effort with the countries we work in, partner of all sizes, citizens, and the wider development community. We're passionate about challenging conventional wisdom to create new ways to work directly with local entrepreneurs, civil society organizations and partner country governments.
Interdynamics is a behavioral and occupational health firm with specialties in the area of child development and social change. Our extensive experience in the early identification of risk factors impacting children and families offers insight into the development of child survival skills which affect both domestic and international communities. Over the last 13 years Interdynamics has actively developed a multidimensional firm participating in research, policy development, evaluation, training and intervention for local, state and Federal government programs.
For more information contact:
Joan Branch, President (301) 306-4590
Jeremy White, Communications Specialist (301) 306-4590
http://www.interdynamicsinc.com