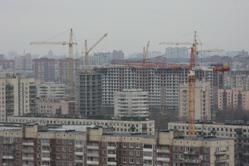 "Today, tension in the global economy is obvious and is felt by many. Stagnation of some segments of real estate market is one if its consequences," said Vladimir Skigin
Los Angeles, CA (PRWEB) June 04, 2013
According to analysis by Satellit Development, this spring the prices on residential property in Moscow stopped growing for the first time since the crisis of 2008. Other experts' estimates even show a decline in prices. The current halt appears to be due to the current economic conditions and a surplus of houses on the market.
"The decrease in oil prices, decline of the RTS Index, and the collapse of prices on gold are among the key economic factors causing anxiety," said Vladimir Skigin, chairman of the board of directors at Satellit Development. "The outflow of capital from Russia is also caused by the jump in the exchange rate between the dollar and the ruble."
The surplus in available housing is one of the other factors causing the stagnation in market prices, which began to form as a result of the city's policy aimed at increasing the volume of housing construction. The increase in construction has yielded similarly increased competition in the market. The reduction of housing costs in some European countries also affects the Moscow market: many Muscovites are focused on preserving their investments abroad. Additionally, more people tend to invest money in apartments or hotels rather than housing as a way of saving money.
"Today, tension in the global economy is obvious and is felt by many. Stagnation of some segments of real estate market is one if its consequences. It is difficult to assume what will happen next year, but we have a reason to be cautious," concludes Vladimir Skigin, chairman of the board of directors at Satellit Development.
About Satellit Development
Management Company "Satellite Development" LLC was established in 2008 and its main activities include: integrated land development, sale of land, development and design of residential and commercial projects, consulting and brokerage services