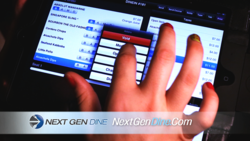 allows customers and Next Gen Dine users' peace of mind
Las Vegas, Nevada (PRWEB) June 01, 2013
Next Gen Dine by Prelag Partners LLC is now integrated with USA ePay payment gateway. The new integration of USA ePay card swipers will act as the 'middleman' between credit card payments and Next Gen Dine web point of sale software. Benefits include no additional processor fees, integration with QuickBooks, and highly detailed usage reports.
There are two different USA ePay Saber versions and both serve the same functions. The audio jack swiper is used for the iPad mini, iPhone, and Android devices, while the USB swiper is for Windows Surface. USA ePay offers end to end (E2E) encryption and PCI compliance, which allows customers and Next Gen Dine users' peace of mind. No credit card information will ever be at risk if the tablet is compromised or stolen. Card information will never be stored on the tablet, but will go through the card reader to be processed.
USA ePay is a leader in the payment processing industry, which provides users complete merchant accounts and payment gateway packages. Features shopping carts, a secure customer database, and simplified PCI compliance.
Next Gen Dine is the future of restaurant dining. For more information, please contact Paul Roberts by phone at 1-877-342-2218 or email at paul(at)nextgendine(dot)com.
Next Gen Dine is a tablet-based, mobile point of sale software designed for the iPad. Restaurant owners can now capitalize on the benefits of a full-featured POS system for a fraction of the cost of a traditional POS. Due to the mobility offered by the software, employees can take orders directly at the table, take credit card payments at the customer's side, and drastically improve restaurant operating efficiency. Orders are sent directly to the appropriate prep. station immediately, therefore decreasing order turnaround time. Next Gen Dine also offers restaurant owners customer loyalty, gift card, social media, and fine-grained marketing tools.
##