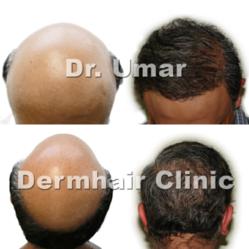 Los Angeles, California (PRWEB) June 03, 2013
Patient education is an essential part of making quality decisions when it comes to medical procedures. DermHair Clinic believes in helping individuals move beyond face value information to better understand the broader picture of both their condition and available treatment options. They are launching a content based social media campaign across multiple platforms to foster enriching, engaging and interactive learning experiences for those suffering from male pattern baldness.
DermHair Clinic is a leader in hair restoration through Follicular Unit Extraction with a particular specialty in reversing severe baldness. Dr. Sanusi Umar, who heads the clinic, attributes their ongoing success to the transparency of knowledge along with a commitment to quality results that meet the unique needs of every patient.
This belief system is quite evident in their extensive portfolio of case study videos. Each one clearly communicates the initial challenge, what was done and before and after footage. The patients are also given opportunities to provide authentic feedback about their procedure. They often share touching and personable stories about how their lives had changed.
DermHair Clinic's social media initiative is a direct reflection of their human centric philosophy. Although many people associate online brand engagement with technology and tools, the clinic believes in focusing on quality content to provide truly engaging online experiences. Central to the company's core set of beliefs is that skill and substance matter the most over technical sophistication alone.
Some of the objectives of their campaign include:
(1) helping individuals understand what causes hair loss to occur, particularly in the case of pattern baldness
(2) emphasizing a larger picture that include answers to questions of how and why when it comes to both conditions and their treatment
(3) encouraging patients to acquire knowledge by valuing and asking their own questions so that their decisions make sense all around
(4) helping individuals cope with self esteem and confidence issues that are often inherent with hair loss experiences
(5) providing a human touch by including styling tips ( to help individuals look their best no matter what stage of hair loss they are facing), real life stories and doses of humor and inspiration when possible.
So far, DHC's Facebook page has reached a milestone of over 14,000 likes. The page presents a wide range of unique and thought provoking topics relevant to men's hair issues including: the experiences of celebrities and real life patients, how hair restoration techniques actually work, the latest in hair styling fashion for men, common questions about baldness and transplants, research findings, ways to control the extent of hair loss and more.
This year, Dr. Umar was recognized by RealSelf.com for his commitment to patient education through social media. As a physician member of the site, he regularly contributes his expertise to inquiries posed by those who are considering (or have undergone) cosmetic procedures in hair restoration and anti aging. Instead of simply presenting facts, he helps patients at their level to better understand a complete picture of their issue and their options. As a 2013 recipient of the Real Self 100 Award, he was honored as being among the top 2 % of doctors who participate on the site. The physicians who received this award were recognized in Times Square, New York through a digital media collage.
DermHair Clinic regards positive results patient experiences as a one of the most rewarding elements of their work. They hope to enrich the lives of individuals even further by continuing to enhance patient education and learning through their social media efforts.
.