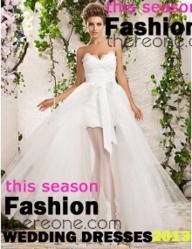 Thereone.com Announces Massive Price Cuts to Its Women Shoes.
(PRWEB) June 03, 2013
Today,Thereone.com,a leading online store for wedding dresses and special-occasion dresses, is now announcing its women's shoe sale, offering 35-60% discounts.
Last month, Thereone.com released new styles of women's shoes. Today, the company announces a great discount on these new shoes.
Ladies can find more than 400 elegant women shoes easily at Thereone.com, which are popular for the quality thread and brilliant hand-done stitching. Now, they are available at lower prices.
Joanna from Germany said, "I ordered my shoes from Thereone.com last week. I finished the whole process very fast. It is very convenient. I like it very much."
In addition, Thereone is launching a promotion for its wedding dresses, including its ball gown wedding dresses, a-line wedding dresses, mermaid wedding dresses, and so on.
About Thereone.com
Founded in 2009, Thereone.com is the leading supplier of wedding dresses and special occasion dresses. Thereone.com is committed to developing cheap and high-quality women's dresses for customers. This company has a group of designers who create elegant designs for customers all over the world. Good customer service, high quality, fast delivery, and competitive prices, are the reasons to choose Thereone.
For more information, please visit http://www.thereone.com/