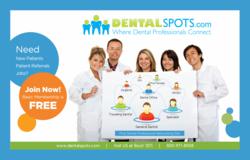 DentalSpots.com is providing a valuable service for our members. Our association is constantly looking for better ways to help our members fill Texas dental jobs, network with each other, and run a more effective dental practice
Dallas, TX (PRWEB) June 20, 2013
A major milestone was achieved when DentalSpots.com recently celebrated its one year anniversary as an endorsed partner of the Texas Dental Association's Perks Program. Texas dental practices are using the website to fill open dental hygienist jobs, dental assistant jobs, and dental front office jobs as well as network with other members of the dental profession.
DentalSpots.com, the website where dental professionals connect, is marking its one year anniversary of helping members of the Texas Dental Association (TDA) fill Texas dental jobs as an endorsed partner in the Association's Perks Program. DentalSpots.com is a technologically advanced site that provides an online resource for networking and filling Texas dental jobs.
Criteria for becoming an endorsed partner for the TDA Perks Program includes offering a product or service of quality and value to TDA members and providing preferential pricing or special accommodations to TDA members. DentalSpots.com is the only online HR Services company endorsed by the program.
Members of the TDA Perks Program use the website to search for prospects for dental hygienist jobs and dental assistant jobs by creating an online office profile, posting dental jobs, searching resumes and managing candidates. TDA members are also benefitting from the site's networking capabilities. Similar to the way business professionals connect on LinkedIn, there are many benefits to dental professionals of becoming part of a network that is geared specifically to the dental industry.
Texas dentists access the online community at DentalSpots.com to build a referral network for their practice, keep in touch with contacts from industry conferences or to build a nationwide network of industry contacts. The discussion boards available through the DentalSpots.com network allow members to follow threads on topics of current interest, ask questions, and get to know their fellow dental professionals.
DentalSpots.com founder, Feridoon Amini, stated that the site recently completed a major overhaul with more than 300 usability enhancements. Commenting on the anniversary of the relationship Amini said, "It has been a perfect fit between DentalSpots.com and the TDA Perks Program. Not only are dental professionals using our site to search for and fill Texas dental jobs, but they are also discovering the many benefits of networking with others in the dental industry."
The Texas Dental Association is the third largest state dental association in the United States. Currently, the Association has more than 7,700 members and is comprised of 26 component dental societies grouped into four divisions across the state of Texas. When asked about the relationship with DentalSpots.com, TDA Perks General Manager Donovan Osio said, "DentalSpots.com is providing a valuable service for our members. Our association is constantly looking for better ways to help our members fill Texas dental jobs, network with each other, and run a more effective dental practice."
Further information on DentalSpots.com may be obtained by visiting the website at http://www.dentalspots.com, connecting on Facebook, following @DentalSpots on Twitter, or calling 1-800-971-8008.