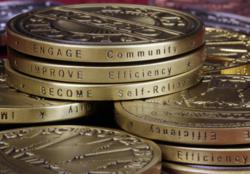 In many cases, the resilience of a community is linked to the resilience of the individual. Our goal is to help working professionals become more resilient by diversifying the ways in which they leverage their skills to earn income.
Corvallis, Ore (PRWEB) June 01, 2013
One company's focus on helping working professionals become more financially self-reliant has garnered more attention than they had ever expected. Husband and wife team Anthony and Dr Rebecca Veltri launched the site Undispensable.com to show working professionals how they could package and monetize their skills online. "We had seen substantial success in promoting a social media marketing course that we had created in our spare time and we wanted to share this strategy with others." Said Rebecca. "The bottom line is that many working professionals have skills that others are looking for online. We teach others how to package those skills and serve others with their knowledge in a manner that provides a concise solution to a single problem or challenge."
In spite of the fact that government statistics indicate the job market is recovering, the small ad that the new company placed on the site problogger.com in search of writers drew over 240 applications in the first week. "We were overwhelmed with the feedback that we had gotten from a community of writers who had very compelling stories to share about their transition from a lifelong career to freelancing after a period of unemployment." noted Anthony.
http://undispensable.com/write-for-us-problogger/
"We created the site Undispensable.com because we had seen far too many people who had dedicated their career to making themselves indispensable to a particular company, only to see that company lay them off or cut their hours during the economic downturn. Rather than focus on becoming indispensable to a company or even an industry, we want to encourage people to develop skills and mindset that focuses on building them up with a portable skillset." Said Rebecca.
While the Veltris have brought on nine writers and are reading every single submission that comes in, the number of unique stories submitted is far greater than they had expected. They plan to release a new course next month that details the exact steps they took to create, market and sell their training products online.
for more information, please visit
http://undispensable.com/write-for-us-problogger/