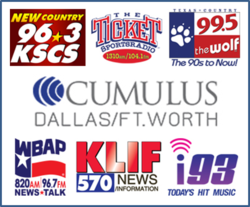 The mission of the Putting Texans Back To Work job fair is to land new jobs for top local talent and to provide local companies with a powerful tool to efficiently and quickly fill open positions. - Dan Bennett - Cumulus Media DFW Market Manager
Dallas, Texas (PRWEB) June 01, 2013
Cumulus Media in Dallas Fort Worth announces their third Putting Texans Back To Work Job Fair, September 25th at the Arlington Convention Center. Putting Texans Back To Work is expected to help between 3,000 and 6,000 job seekers to quickly secure new employment. Based on prior job fair successes, Cumulus forecasts large counts of applicants for nearly every employment category.
The site of this event is Arlington's Convention Center, an ideal location for access from Dallas, Fort Worth, and the Mid-Cities. This maximizes potential for attendance. As a gesture of good will, Cumulus-DFW has also arranged for free parking for all attendees.
The DFW job market always peaks at the end of Q3, which means Putting Texans Back To Work takes place when hiring need is the greatest. The entire Cumulus Media DFW team is committed to serving the North Texas Community in facilitating Putting Texans Back To Work.
The Putting Texans Back To Work Job Fair takes place September 25th at the Arlington Convention Center. For more information or to get involved go to http://www.puttingtexansbacktowork.com