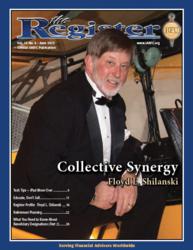 No matter what, take the high road. Don't talk poorly of other firms. Simply do unto others as you want done to you. --Floyd Shilanski, RFC
Middletown, OH (PRWEB) June 10, 2013
For the firm of Shilanski and Associates, family values are the core of the practice. "To this day we have never forgotten where we came from and we like doing business with hard working Americans who share this belief," says Shilanski" "We like helping people achieve their dreams and take care of their loved ones."
Shilanski states that if a client is only after a specific rate of return, his firm is not the right fit. Questions like, where did you grow up? What did your parents do? What did you spend your first paycheck on? inevitably lead into a more values-based planning method. Talk is about dreams, goals, where a client wants to be in life and what's important to them to leave behind. "We don't chase returns" states Shilanski "We help people achieve their goals."
As a member of the IARFC, he advises RFCs to concentrate on values and view money as an "exchange of life energy." What works for him in building a successful and lasting client relationship is: do what you promise, show up on time, say please and thank you and take accountability when wrong. When clients come in with the top ten questions to ask a financial professional downloaded from the internet, they are redirected by being asked questions about their dreams, goals, where they want to be in life and what's important for them to leave behind.
Ed Morrow, Chairman and CEO of the IARFC reiterates the value of this personal connection. "Floyd and his family have the secret ingredient that is paramount in building a lasting and successful relationship. His philosophies are important not only to his company but the IARFC organization as a whole."
Supporting Shilanski & Associates is his business partner and wife Rosa, daughter Jamie - Client Relations Director and son Micah - RFC, CFP and skilled profession on the Federal Employee Retirement Systems. From a very young age, his children were involved in attending conferences, meeting speakers, listing to audio CDs and reading financial literature. "The biggest influence in my life is Rosa" admits Shilanski. "She keeps me balanced when I feel off kilter, is calm when I feel the waves crashing in and 43 years, 3 grown children and 5 grandchildren later, she still makes me laugh. "
Shilanski's successful practice promotes a stong networking strategy. Every other year they take financial professionals fishing in remote Alaska along the Kvichak River. "This affords us an opportunity to build relationships, discuss strategies, learn new marketing techniques all while having the fishing experience of a lifetime." relates Shilanski. "Remote Alaska affords the perfect backdrop for collective synergy."