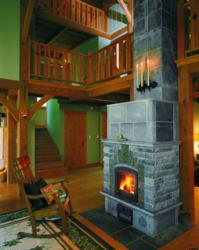 "All day long and until past midnight all parts of the room will be delightfully warm and comfortable." - Mark Twain
Tucson, AZ (PRWEB) June 05, 2013
Masonry heaters are designed to burn fuel at its maximum efficiency. To properly burn wood, you need a flame temperature above 1100 degrees F, a liberal air supply, and a good dry fuel source such as split cordwood. Combustion temperatures this high burn up creosote in the firebox, preventing any buildup on flue walls. The heat produced by these high temperatures is stored in the masonry mass and then gently and evenly released into a residence, business or office as radiant heat. A properly designed masonry heater can warm your home on one or two fires a day, eliminating the need for constant stoking.
Think of a masonry heater as a large warm rock in a home. It is a high-mass heat storage system. Short, hot fires generate tremendous amounts of heat which is then stored in the masonry, to be slowly and evenly released into your home.
Masonry heaters are true radiant heating systems, and there is very little temperature stratification in the home. Since radiant heat warms objects directly, you feel warmer over a wider range of air temperature. It's like experiencing a sunny day and that feeling of well-being that your body intuitively recognizes.
The design and size of the heater must be matched to our climate and your home's heating requirements. Since the heat retention and output of the masonry heater are predictable, your heater builder can design a system that fits the home-owner's needs.
In addition to being an elegant wood-burning appliance, a masonry heater can also be a work of art. The Masonry Heater Association's webpage has a photo gallery that showcases many fine looking heaters.
About the Association: The Masonry Heater Association of North America is a non-profit organization dedicated to serving the interest of the masonry heating industry and its clients. Founded in 1987, MHA is an association of builders, manufactures and retailers of masonry heaters. A member directory is available on the MHA's website that allows interested parties to research a builder close to them. In 1998, MHA established a certification program and since then has been instrumental in educating its members and the general public on the virtues of masonry heaters.