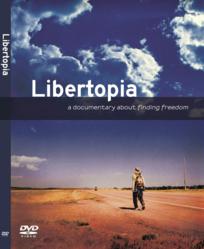 When first meeting the Free Staters, I was still thinking in terms of the two party paradigm. As I learned about libertarianism, I found the philosophy really appealing, and was inspired by the passion of the FSP. - Christina Heller
Los Angeles, CA (PRWEB) June 01, 2013
The highly anticipated release of Libertopia will take place June 1, after two years in a digital distribution contract. The documentary is available at no cost as of today.
Libertopia is a time capsule of the Free State Project from 2008 - 2009. It follows three members of the Free State Project -- ordinary citizens attempting to reclaim a voice against a government which they believe shares neither their priorities nor their interests. Often considered radicals in their hometowns, they have begun a mass migration to 21st Century New Hampshire.
The film presents a nation-trekking examination of a high-minded but ultimately practical group of people and their beliefs. The result is not a reasoned argument for libertarianism, nor even an impassioned plea, but rather a microscopic view of a growing, 13,000-person strong movement with three of its sojourners as the lens. The style is upbeat and deeply human—often amusing and at times heartbreaking—and by its end the audience cannot help but yearn to breathe freer themselves. Libertopia was the first feature film for producers Craig Goodale and Christina Heller.
"When first meeting the Free Staters, I was still thinking in terms of the two party paradigm," says Heller, "As I learned about libertarianism, I found the philosophy really appealing, and was inspired by the passion of the FSP. Libertopia was created for a general audience, not simply to preach to the choir. I'm hoping this free release will get the movie outside the inner circles of the liberty movement and spark conversations about liberty vs. authority in our society, rather than Republican vs. Democrat."
Heller, who directed the film, is currently producing a new documentary called The Spark, which provides a blueprint for reducing America's spiraling energy consumption by increasing common access to natural resources and industrial technology.