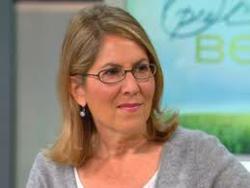 Her wisdom, practical advice and poetic writing pierces my heart while, at the same time, expanding it with a new awareness and knowing that we are all truly in this shared experience of reality together
Seattle, WA (PRWEB) June 06, 2013
With Women For One founder Kelly McNelis, Lesser challenges and inspires women to redefine shame, pain and suffering in their lives. She also discusses the importance of exercising self-compassion and nurturing the "landscapes" – the body, mind, heart and spirit – of human life. As modern women struggle to find their place in the world, sage words from women who "walk the walk" are more important than ever. Omega Institute co-founder and senior board advisor Elizabeth Lesser, whose New York Times' best-selling title, "The Seeker's Guide" and "Broken Open" have led countless lives to foster emotional intelligence and healing, shares timely wisdom and tools for achieving authenticity and nurturing the soul. This recent interview can be found in its entirety at http://womenforone.com/interview-with-author-visionary-elizabeth-lesser.
Elizabeth Lesser has studied with spiritual teachers and religious scholars from other traditions, as well as psychological practitioners and healers. Lesser attended Barnard College and San Francisco State University. Previous to her work at Omega, she was a midwife and birth educator. She has been active in environmental issues for many years in New York State's Hudson Valley and Catskill Mountains, where she lives with her husband.
Kelly McNelis Senegor is the founder of Women For One. Her vision for all women of the world is to empower them with the tools they need to become successful and authentic each day of their lives. Women For One is a global community of women encouraging authenticity and inspiration. This movement encourages women of all ages, ethnicities and backgrounds to exchange authentic dialogue by sharing life lessons and supporting one another to create a powerful new vision for their life. Since its inception two years ago, Women For One has engaged a social media reach of over 4 million users from over 60 countries, on five continents.
If you have any questions regarding information in these press releases please contact Women for One at info(at)womenforone(dot)com.