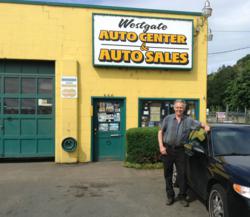 (PRWEB) June 02, 2013
Lee Barfknecht, owner and mechanic of West Gate Auto, an auto repair shop in Salem, Oregon for 43 years, just had a dream come true by being involved in his daughter's debut album. Jerusha Lee had teamed-up with Grammy-award winning musicians in Los Angeles to record "Mechanic's Daughter" inspired by her father. Shortly after the album was recorded, Lee received staggering news from the Oregon Department of Transportation (ODOT) that his repair business of 43 years will be demolished to have a wider road constructed over it. ODOT told Lee they have until August 31st to vacate and/or relocate.
The West Salem community of customers have been calling West Gate Auto in a frenzy learning the news of demolition. Lee has been the trusted mechanic for decades in West Salem. The Wallace Road-Glen Creek intersection widening project is meant to ease traffic congestion. Currently, Lee has no place to relocate his 43 year old business.
Even in the midst of this tragic news, the good news is in the music industry, it's not often one hears of Grammy musicians co-writing a song with a small-town mechanic, and then recording that song on a debut album out of Los Angeles. Lee Barfknecht, always wanted to be a musician, singer, and songwriter instead of a mechanic. After all these years, his big break into the music industry just came true as he co-wrote a song, "Booze Talkin'" with well-respected, Grammy musicians Kevin Axt, Ray Brinker, Andrew Synowiec, and Jim Cox. The song features a blend of country and blues.
Lee got involved through his daughter Jerusha. She was recording her debut album when her producer, Kevin Axt wanted another original song. Lee was called for any extra songs he had written. He had the lyrics, but not the music. The Grammy band was impressed with the unique concept of the lyrics, and wrote the music within the last hour of recording in the studio. "Booze Talkin'" quickly became the most played on Jerusha's website, and the top song on the debut album.
The town mechanic has received quite a stir of inquiries surprised of his song writing skills and connections to the Los Angeles music industry. Jerusha is now known as "Jerusha Lee," and after hearing how Lee's song was the top recorded song on the album, she appropriately titled her debut "Mechanic's Daughter." The album was just released on ITunes and CD Baby. For more information, visit http://www.jerushalee.com