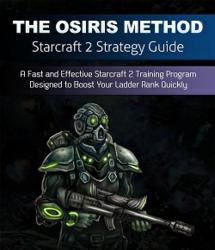 (PRWEB) June 01, 2013
OsirisMethod.com is pleased to announce the launch of a new Starcraft 2 training program, The Osiris Method. This program has been half a year in the making and is completely up to date with Heart of the Swarm, the latest Starcraft 2 expansion.
Cody Collins, author of The Osiris Method, has maintained a Starcraft 2 website for years and created the guide in order to help players improve their ladder rankings. The inspiration for the guide came from Cody noticing that some players struggled to improve in rank despite repeated and steady effort.The Osiris Method is designed to be a step-by-step, fool proof plan for increasing Starcraft 2 skill and rank.
Rather than just provide strategies like other Starcraft 2 strategy guides, Cody has created a program that players can follow along with on an hour by hour and week by week basis. These drills and practice regimens allow for players to improve their skill by honing in on specific aspects of gameplay. This specificity of training follows the same techniques used to teach chess, music, and sports, but until The Osiris Method, these techniques have previously not been used in the realm of competitive video games.
The most important thing in the Starcraft 2 universe is ladder rank. Hundreds of thousands (if not millions) of players compete over a several month season for the coveted rank of "Grandmaster", a title limited to the top 200 players from each of the game's 4 regions (Americas, Korean, Oceanic, and European). Due to the large number of players vying for one of just a few spots in the top ranks, the competition for ranking in Starcraft 2 is intense. The newly released training program, The Osiris Method, is the first program that specifically focuses on quick and efficient increases in rank within a single ladder season.
The Osiris Method consists of a section on Starcraft 2 training theory, a section on hotkeys, recommend game settings for optimal actions per minute (APM), information on the best ways to use replays (both personal replays and those posted by professional players) in addition to the large amount of training charts and builds provided with the manual. Finally, players are offered 5-10 week training programs (based on playtime) that, when completed, promise to help players significantly improve their ladder rank.
More information on The Osiris Method can be found on their website at: