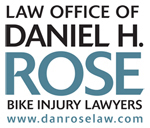 San Francisco,California (PRWEB) June 03, 2013
The Law Office of Daniel H. Rose is proud to be a Platinum Sponsor of the San Francisco Bicycle Coalition's (SFBC's) Golden Wheel Awards 2013, to be held on June 20, 2013 6:30-9:30 p.m. at the Hotel Whitcomb at 1231 Market Street. The annual event honors a few of the many organizations and people who have done exemplary work in the past year to make San Francisco a safer and more enjoyable place to bicycle.
The keynote speaker at this year's event will be Janette Sadik-Khan, Commissioner, New York City Department of Transportation. As Commissioner, Ms. Sadik-Khan has orchestrated a dramatic transformation of the transportation system noticeable throughout New York City, including the installation of hundreds of miles of bicycle lanes, 50 plazas, Broadway Boulevard, new Select Bus Service routes, and many other measures to improve the safety and livability of City streets and pedestrian ways, earning her national recognition.
This year's honorees at the Golden Wheel Awards will include CC Puede, a San Francisco neighborhood grassroots organization founded to make major beneficial changes to Cesar Chavez Street, a major thoroughfare, as well as Yerba Buena Community Benefit District, a nonprofit organization which has successfully worked to improve the Yerba Buena Neighborhood.
For over 40 years, the San Francisco Bicycle Coalition has been transforming San Francisco streets and neighborhoods into more livable and safe places by promoting the bicycle for everyday transportation. Through their day-to-day advocacy, education and working partnerships with government and community agencies, the SFBC is creating safer streets and more livable communities for all San Franciscans.
The Law Office of Daniel H. Rose specializes in the representation of injured bicyclists throughout Northern California, with more than 28 years of experience. Daniel Rose is one of the leading bicycle accident injury lawyers in the San Francisco Bay Area, serving the counties of Marin, San Francisco, Alameda, Santa Clara, San Mateo, Contra Costa, Sonoma and Napa. Mr. Rose has a reputation for ethically, efficiently and compassionately obtaining justice for the bicycling community.
LAW OFFICE OF DANIEL H. ROSE
One Sansome Street, Suite 3500
San Francisco, California 94104
Tel: (415) 946-8900 Fax: (415) 221-0892
danrose(at)danroselaw(dot)com
http://www.danroselaw.com