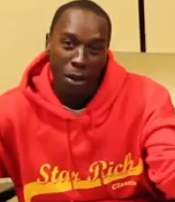 Huston, Texas (PRWEB) June 01, 2013
The opening of the new Star Rich™ fashion wear and shoe store in Huston, Texas, is the first in what could become a national chain with street-smart shoes from the Huston based fashion shoe designer, Richard Alele and his all-star support team.
The new store will feature all three of the current Star Rich™ shoe designs to include the just arrived Classic edition along with the earlier Glow edition and original Skull edition, plus a growing clothing line starting with Star Rich™ T's.
"Coming from his background as a Rap artist, Alele's designs reflect the styles, graphics and colors popular with today's market," says Winnie Peng of Shoe-Manufacturer.com, China manufacturer of the Rich Star™ brand.
Peng continues:
"The giant brands like Nike might spend a lot of money to 'watch the street', but the Star Rich™ Shoe team IS the street and they are incorporating the feeling of what their clients want, with their Hip Hop background, to make create popular shoe styles.
"Here at Shoe-Manufacturer.com, our slogan is "We Build Your Brand©", but it takes real drive and determination for a new shoe brand to keep going through all the difficulties of starting a new business and to create the marketing power to make their new brand as success, and that's what Richard Alele and his great support team have managed to do.
"Alele was just 21 years old when he first contacted Shoe-Manufacturer.com about his vision to create a fashion shoe brand but he kept that vision commitment going for over three years now with continued success.
"The new Star Rich™ 'Classic' edition continues to sell well and new styles are already being worked on for the future building of the brand.
"A few years from now, Alele's original designs may be collectors' items as the brand grows and becomes a house hold name.
"Richard Alele and his team should be an inspiration to young entrepreneurs and aspiring shoe designers, and we congratulate them on the upcoming opening of their flagship Star Rich™ Brand shoes and fashion wear store in Huston, Texas."
About:
Winnie Peng is Senior Project Manager for China Product Sourcing and Marketing Ltd. (CPSM), fashion manufacturer and leading producer of footwear for independent designers and footwear importers around the world, Shoe-Manufacturer.com , and previously Senior Inspector of Quality Control and Corporate Compliance for Best Seller of Hong Kong, supplier of Europe's largest fashion retail group, Best Seller.
Contact:
Winnie Peng
Email: winnie.chinaproduct(at)gmail.com
Tel (USA) 1- 336-775-8615,     
Tel (China) 136-6233-4753 
Skype:   winniethepooh9      
About:
Lexis Global News (LGN) features current items of interest in business, technology, manufacturing, health and wellness, education, fashion, travel and life style. LGM is a division of Lexis Global Marketing LLC. http://www.lexisglobalnews.com/
Contact: Robert Allen
Lexis Global News
Tel 1-336-775-8617
Email: featurerseditor(at)lexisglobalnews(dot)com
Address: 931-B South Main St., Suite 154
Kernersville NC USA 27284