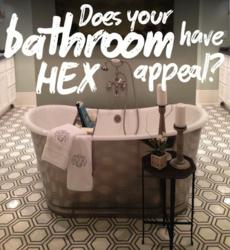 You'll be steeped in design from the moment you walk in the door
Chattanooga, TN (PRWEB) June 01, 2013
Mission Stone & Tile Chattanooga, a retailer/distributor of luxury tile and natural stone and provider of design services, is opening at 55 East Main Street - Suite 102 in Chattanooga on Monday, June 3rd. The 3,000 square foot showroom and design center will be open to homeowners, interior designers, architects, contractors and anyone looking for unique, luxury tile or stone products.
Mission Stone & Tile (MST) Chattanooga is the second showroom location for MST. The company's original location in Nashville is a popular outpost for homeowners, designers, architects and contractors. Likewise, MST's online store sells tile and stone products to buyers across the U.S. MST is owned by Mary Elizabeth Oropeza, a Chattanooga native now based in Nashville. Oropeza has family in the area.
"We're thrilled to be a new addition to the Southside neighborhood," states Oropeza. "Having grown up here, it's really amazing to see how Chattanooga is growing and evolving. To be part of that as a business owner is really special."
The showroom is staffed by a duo of tile and design professionals. Kristin Randle, showroom manager, is relocating to Chattanooga from Nashville to lead the location. Chattanooga native May May McGuire is on board as design consultant.
Oropeza and her team designed the retail space to enhance the building's urban vibe while showcasing the range of tile and stone products in inviting, touch-and-feel displays.
"You'll be steeped in design from the moment you walk in the door," Oropeza explains. "Concept boards, floor vignettes, beautiful samples... Our goal is to inspire customers to fall in love with tile and stone."
MST has global reach to offer the local community access to latest tile designs and products from around the world.
"We design lines ourselves and source products across the globe. Chattanooga's a design savvy city that will be inspired by the really unique products we offer," summarizes Oropeza.
Mission Stone & Tile Chattanooga will be open weekdays from 8:30 to 4:30. The address is 55 East Main Street, Suite 102 in Chattanooga. Learn more about MST at http://www.missionstonetile.com and follow the Chattanooga showroom on Facebook for ongoing news and updates: https://www.facebook.com/MissionStoneTIleChattanooga.