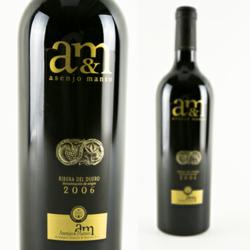 Vienna, VA (PRWEB) June 04, 2013
Classé Wines (classewines.com) is pleased to offer exquisite Spanish Red Vines. Among its premium offerings is the 2006 Bodegas Asenjo & Manso-Ribera del Duero A&M from Burgos, Spain in the La Horra region. This premium 100 percent Tempranillo Red wine has received high marks from reviewers, with a 93 point rating from Steven Tanzer of the International Wine Cellar in September 2012. However, identifying superior wine just by rating would not be enough to truthfully appreciate the quality wine.
2006 Bodegas Asenjo & Manso-Ribera del Duero A&M is produced from 100-year-old Tempranillo vine grapes, a variety of black grape that is native to Spain that is grown to make premium, high quality red wines. 2006 A&M made in limited number of bottles, less than 4,000 bottles for the entire year. The wine is aged in brand new barrels from American oak shipped from the United States.
This premium vine offered up an explosive, complex nose of kirsch, a sweet taste with flavors of blackberry, cherry vanilla, and coconut that has a texture of velvet. The aromas are of oak spice with berry liqueur, and it has tannins that are soft and persist for a long time, and a dark ruby color that is said to stain the glass. The vine's taste and quality is aided by the vineyard's location in La Horra, which is located within the Autonomous Community of Castile and Leon in Central Spain. This region was named Vine Region of the year in 2012 by Wine Enthusiast magazine, but its history in the wine-making business is much older than that, with a history that extends back more than 2000 years. It is located along the Duero River in the plateau that encompasses much of the northern region of the Iberian Peninsula. It is known for its red wines that are exported all over the world and have become known for quality that has helped Spain increasingly become one of the prominent wine-producing countries in the world.
This wine's exquisite taste is a product of the care that the winery invests in producing it. Ribera Del Duero Bodegas Asenjo & Manso is a premium winery in the La Horra region of Spain that was established in 2004. It has a combination of being a new winery that nonetheless has grape vines that are between 80 and 100 years old that are from a winery that was taken over by its current owners after suffering setbacks and trials over the years. The owners of Bodegas Asenjo & Manso are adamant about nature and thus refuse to compromise by using pesticides or any chemical sprays on their grapes. As a matter of fact, all of the fruit that is used in all of their wines is organically grown. They even take care to use the natural fertilizers only when necessary, leaving consumers with an experience that is as close to natural as possible.
2006 Bodegas Asenjo & Manso-Ribera del Duero A&M is available in limited edition from ClasséWines.com for $350.00 per bottle. We are pleased to offer such an exquisite product from an up and coming Spanish winery.