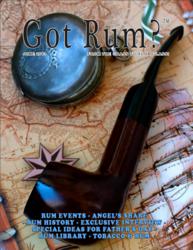 The electronic version is available free of charge
Round Rock, Texas (PRWEB) June 03, 2013
Here is a preview of what readers will find in the June issue:

From the Editor- "On Choosing Quality Over Fantasy" by Luis Ayala.
The Angel's Share- Featuring Depaz Blue Cane Rhum Agricole from Martinique and Centenario 20 from Costa Rica, review done by Paul Senft.
Father's Day Special- "5 Ways to Feast Your Father on His Day" by Margaret Ayala.
Rum Event- Interview with Mr. Javier Herrera, Director of II International Rum Conference, Madrid, Spain.
Exclusive Interview- Interview with Mr. Jay Maltby, President of Hemingway Rum Company from Palm Beach Gardens, Florida, USA.
Bartender's Corner- Dr. Ron A. Ñejo talks about "Essential Rum Cocktails- Part I."
Rum in History- A timeline of what happened in the month of June throughout history from 1509– 1851.
Rum Library - Review of "Cordial Waters: A Compleat Guide To Ardent Spirits Of The World" written by Volodimir Pavliuchuk.
Rum Cake Review - A review of Full Circle Flavors, LLC (http://www.fullspiritedflavours.com) cakes, by Margaret Ayala
Pairing Tobacco & Rum –Mr. Philip Ili Barake brings us "Puerto Rican Style," featuring: Ron del Barrilito 3 Star Rum, Bacardi Reserva Limitada Rum, Don Q Gran Añejo Rum and El Morro, San Cristobal de la Habana.
From its launch in May of 2001, "Got Rum?" has been the world's first and only monthly publication devoted solely to rum. It has been responsible for educating consumers and industry members alike, by publishing interviews with industry members, exclusive material from The Rum University, product reviews and much more.
"Got Rum?" magazine and The Rum University are fully-owned subsidiaries of Rum Runner Press, Inc., the leading rum consulting specialist in the world.