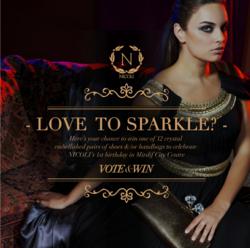 LOVE TO SPARKLE? HERE'S YOUR CHANCE TO WIN ONE OF 12 LUXURY CRYSTAL EMBELLISHED SHOES AND/OR HANDBAGS FROM NICOLI ON FACEBOOK.COM/NICOLISHOES
Dubai, United Arab Emirates (PRWEB) June 03, 2013
Renowned worldwide for its fashion authority, Italian craftsmanship, Arabian elegance and unmatched quality; few fashion houses can boast as much mystique as NICOLI. The glamorous world of NICOLI is not just exclusive, it is elegant, unique and highly sought after too. Created as the perfect accessory to life's most beautiful and memorable moments, Hollywood glamour and Italian styling is behind, and can be seen in everything NICOLI does; from the exquisite hand crafted evening handbags, purses and clutches to the glamorous Swarovski diamanté embellished shoes.
To celebrate and strengthen the bond with their valued clientele, NICOLI is proud to announce the launch of their first ever Facebook competition; 'Love to Sparkle?' "The competition is not only a way to celebrate the 1st Birthday of our Mirdif City Centre Boutique, but is way to thank all those amazing fashionistas out there who continue to support us throughout the GCC and online." - Kate Weaver, Marketing and Business Development Director, NICOLI
The competition will run for a month and lucky entrants will get the chance to win one of 12 fabulous, crystal embellished handbags and/or pairs of shoes - one product for each month the boutique has been open.
To enter the "Love to Sparkle?" competition is a piece of cake. Users simply Like the NICOLI Facebook page, click the enter competition button, then 'LOVE' their favorite NICOLI shoe or handbag - it's that easy. The more times a person loves their favorite product and shares the Love to Sparkle? promotion, the more chances they will have to win! Winners will be notified via email and products they have won will be shipped to them. Furthermore, the worldwide NICOLI - Love to Sparkle? promotion might just become a permanent monthly fixture for the brand on Facebook, thus, giving every shoe and handbag aficionado a chance to shine in NICOLI's luxurious crystal embellished products for free!
 
Whether it's their stunning boutiques, online flagship boutique or Facebook giveaways / competitions, NICOLI has always attracted a unique and sohisticated clientele by offering them a complete NICOLI lifestyle. The beautiful, limited edition crystal embellished collection of ladies' shoes and handbags includes it all - from futuristic styles to retro give-aways and sorbet tones to earthy appeal - from gorgeous siren heels to cutting edge wedges, sparkling flats and more. The flairs and designs are an eclectic mix of dazzling metallic tones and consider the instincts and everyday needs of a practical life from crystal embellished stiletto heels to ballerinas, comfort slip-ons that transition from day to night, to a stunning array of unique limited edition must-haves.
Steeped in glamor and famed for fashionable yet timeless products, NICOLI continues to explore new grounds to reach its clientele even more conveniently. With the recent opening of a new flagship boutique at Al-Ain Mall, NICOLI stores have now reached the total number of seven throughout the GCC. In addition, NICOLI has recently launched their online ecommerce boutique - http://www.nicolishoes.com
With the NICOLI - Love to Sparkle? competition on Facebook, NICOLI is all set to tempt its customers' toes into something fashionably fabulous! This superb Love to Sparkle? competition is available to NICOLI fans worldwide and anyone can enter by simply liking the NICOLI page and selecting their favorite NICOLI products on Facebook. It's that simple! Just remember, participation is key - for a chance to win these luxurious crystal embellished shoes and handbags.