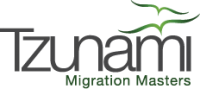 Bellevue, WA (PRWEB) June 04, 2013
Tzunami, a leading provider of SharePoint Migration solutions, today announced the release of its new SharePoint Migration Tool for Hummingbird 6. The new solution now includes features for enhanced performance as well as support for Records Management. With added support for Hummingbird DM6, Tzunami Deployer, Tzunami's flagship SharePoint migration tool offers seamless migration of all Hummingbird 6 content to any version of Microsoft SharePoint.
Tzunami Deployer for Hummingbird DM (eDocs) Migration is a stand-alone application enabling rapid content migration to advanced SharePoint structures. The user-friendly design of Tzunami Deployer enables organizations to reduce the drain on company resources, cut costs and save up to 90% of traditional SharePoint migration time.
"Tzunami's recent Hummingbird DM Exporter release wa s designed to meet the needs of several customers' expressed frustration with the lack of existing SharePoint migration tools on the market for Hummingbird 6," remarked Itay Sagui, VP Research & Development of Tzunami. "With over 14 years of experience in providing simple, fast and effective solutions for all client migration requirements, Tzunami decided to meet the rising need. Our migration tool offers streamlined data transfer from Hummingbird 6 to all Microsoft SharePoint versions."
Key features include the transfer of all metadata, security, and versions to ensure a complete and accurate Hummingbird migration to SharePoint. In addition, the migration tool handles all object types, including workspaces, libraries, quick searches, folders, documents, and record management. Without any server-side installation on the DM server, the solution enables users to run the export command on one machine, while loading the data onto another. With the ability to connect remotely to the Hummingbird DM server, users easily select and control the content to be migrated.
Tzunami Deployer for Hummingbird DM (eDocs) is part of the Tzunami Deployer Family of Products. Tzunami Deployer is a low-cost migration tool which seamlessly transfers data from a wide variety of platforms and Enterprise Content Management (ECM) systems, including: Microsoft SharePoint, Hummingbird DM, Exchange Public Folders, LiveLink, DocuShare, Documentum, AquaLogic, Lotus Notes, eRoom, Confluence, custom repositories and several others.
About Tzunami:
As the pioneers in the field of content migration, Tzunami has a strong track record of providing SharePoint Migration Solutions to global enterprises. Offering a simple solution, Tzunami migrates all of an organization's content to advanced SharePoint systems from multiple sources. With clients including federal government entities, Fortune 500 companies and well-known multinationals, Tzunami boasts the expertise and flexibility to deliver simple, fast and effective solutions for all customer requirements. To learn more please contact: sales(at)tzunami(dot)com, call 1-866-203-5264, or visit our website at http://www.tzunami.com.