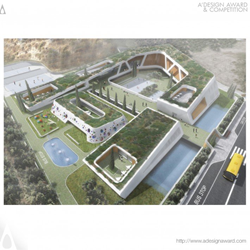 Como, Italy (PRWEB) June 06, 2013
A' Design Award and Competition is pleased to inform that "Bioclimatic European School Complex (Compass)" project designed by Office 25 Architects (O25 : Officetwentyfivearchitects) became winner of the prestigious Platinum A' Design Award in Architecture, Building and Structure Design Category, selected as a winner by the international jury panel among a great number of designs.
More information on the winning design "Compass"
"Compass" is a school in Crete that was designed in the shape of an arrow which shows the path that Greek Gods Zeus and Europe followed in the myth. Therefore the form of the school building is actually acting as a memorial connecting a myth with reality. Office 25 Architects created an an arrow shaped building that is pointed toward the rest of Europe, origin and destination of the future students of the school and a constant reference of where Crete belongs now." Learn more about the award winning design at: http://www.adesignaward.com/design.php?ID=27476.
Team Members for Compass
The Compass project was designed by Office 25 Architects: Manolis Vourakis, Antonis Perpatidis, Thanasis Chrysomallis, Katerina Rapti, Vasilis Nikolopoylos, Ariadni Parisi, Vasilis Vavoujios, Elena Papageorgioy, Eleni Theodoridou and Desipris Giannis.
The Platinum A' Design Award
The Platinum A' Design Award is a prestigious award given to top 1% percentile designs that has carried out an exemplary level of quality in design. The designs are judged by a panel of three different jury which is composed of Academic, Professional and Focus Group Members. The designs are evaluated with score normalization to remove any biases and are voted on aspects such as functionality, ergonomics, engineering, presentation, innovation, usability, fun details, technology, and any other specific points that could be considered, each of these points are further weighted for different jury groups.
About A' Design Award and Competitions
A'Design Award and Competitions, aims to highlight the excellent qualifications of best designs, design concepts and design oriented products. A' Design Award and Competitions are organized and awarded annually and internationally in multiple categories to reach a wide, design-oriented audience. Learn more: http://www.whatisadesignaward.com