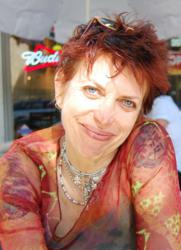 Tosha is pure authenticity.
Seattle, WA (PRWEB) June 04, 2013
At a time when cultures worldwide are struggling with religious, gender, race and sexual orientation diversity, spiritual visionary Tosha Silver offers the challenge, "What if each of us, just as we are, are already perfect expressions of the Divine?"
Silver and Women For One founder Kelly McNelis Senegor hold an authentic conversation about such important topics as self-acceptance, surrender in life and in death, and the link between courage and feminine energy in a captivating audio interview now available through Women For One as part of the summer 2013 interview series.
"What if we can self accept that this is it? That we are the Divine?" Silver asks. "Divinity is so incredibly personal and unique. God is making people in so many different ways … the divine is a party and you're invited."
Silver joins such inspirational speakers such as Ohio U.S. Congressman Tim Ryan and The Daily Love founder Mastin Kipp in Women For One's latest series of interviews guaranteed to provoke life-challenging and life-changing questions. Her interview can be found in its entirety at http://womenforone.com/authentic-conversation-with-tosha-silver.
Silver graduated from Yale with a degree in English literature, but along the way developed what she terms an "obsessive, unexpected passion" for metaphysics and yogic philosophy. Silver has been a guide and consultant for 30 years, as well as "http://www.examiner.com/spiritual-in-san-francisco/tosha-silver" San Francisco Spiritual Examiner columnist at examiner.com since 2009 and is the author of "Outrageous Openness: Letting the Divine Take the Lead.".
Kelly McNelis Senegor is the founder of Women For One. Her vision is to empower all women with the tools they need to become successful and authentic each day of their lives. Women For One is a global community encouraging authenticity and inspiration. This movement encourages women of all ages, ethnicities and backgrounds to exchange authentic dialogue by sharing life lessons and supporting one another to create a powerful new vision for their life. Since its inception two years ago, Women For One has engaged a social media reach of over 4 million users from over 60 countries, on five continents.
If you have any questions regarding information in these press releases, please contact Women for One at info(at)womenforone(dot)com.