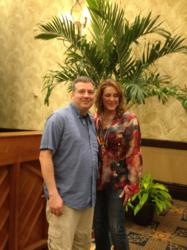 "Marketing is all about getting your message out to anyone who might be a customer some day" Josh Caldwell of Zebulon
Pittsburgh, PA (PRWEB) June 12, 2013
Zebulon Tech was born out of necessity. The marketing success of Caldwell Holdings and the Western PA Real Estate Investors Association has led to Josh Caldwell receiving a mountain of requests for marketing assistance. At first the requests came from real estate investors who were able to witness the success of Caldwell Holdings as a competitor. Then as part of his duties as President of the Western PA Real Estate Investors Association, Josh Caldwell started to teach classes to other entrepreneurs about marketing, both online and off line.
Much of the early marketing success came from the vendors of the Western PA Investor's Association. Josh Caldwell worked hard to promote the business interests of each vendor as part of the club's vendor membership. This marketing effort took several forms. The idea was to market each business using the tricks of professional online marketers and at the same time avoiding the costly programs that created little or no return on investment. Essentially, this put Caldwell Holdings in a position to learn how to market in any industry, with almost no budget.
Marketing a diverse group of business' lead to an accelerated learning curve, in which Josh Caldwell was obligated to learn how the mechanics of marketing worked. He spent time learning from marketing legend Dan Kennedy, and direct mail guru Ted Thomas, as well as online whiz kids. The broad based approach to learning allowed the companies affiliated with Caldwell Holdings to benefit from a broad range of most up-to-date marketing tricks.
The pre-launch step occurred over the past year when a number of small business owners contracted with Josh Caldwell to upgrade their marketing efforts. So far, Josh and his team have expanded the marketing efforts for companies in diverse fields of endeavor to include real estate, child care, construction, international security, law firm and a school safety company.
With each company and each industry there is a bit of a learning curve, where the company needs to learn about the individual market, but in the end, marketing is basically the same thing. The art of marketing involves getting a product or service to as many potential clients as possible in the most cost-effective manner.
Due to the unique circumstances of each marketing plan, Zebulon Technologies will be offering a unique pricing structure. Simply put, Zebulon offers a wide range of service that is 100% scalable to any size company or budget. Starting off with companies that are just starting and have no budget for marketing, Zebulon will only charge these companies a percentage of the sales revenue that the marketing efforts bring in. For a small business, sales equal survival, and marketing equals sales. Many entrepreneurs enter the market with no plan of how to reach customers at all. Zebulon can help.
With the internet, location and industry are largely irrelevant when it comes to marketing. Most of the battle is won or lost with the ability to drive internet traffic to a web site. The skills set that allowed the other Caldwell companies to dominate their sectors are easily transportable to other markets. The strategic use of video marketing, social media marketing, search engine optimization and other internet marketing tricks, can easily be applied to a wide range of industries. Nearly any small company that manufactures a product or provides a service can benefit from these types of strategic promotions.
Anyone interested in contacting the company should email founder Josh Caldwell at PittsburghREIA(at)aol(dot)com or call 412 761 7342