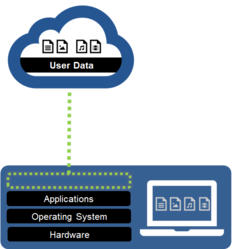 Tokyo, Japan (PRWEB) June 03, 2013
To sustain high competitiveness, not only enterprises but any sized organization including local retail chain stores and government agencies need an environment that allows their workers to continue working anywhere and anytime, without compromising security and user experience.
By using CloudDock, no matter whether the workers are in the office or out for a month-long international business trip, their working environment is always with them for maximum productivity.
Cloud Roaming Profile
CloudDock offers "Cloud Roaming Profile" features, which has combined benefits of cloud storage such as DropBox, SkyDrive, and GoogleDrive, and enterprise-class security control.
Eugrid's market-proven, award-winning security and virtualization technology is at the core of CloudDock. The entire user profile including user's Desktop, Documents, Pictures, etc., is separated and isolated from the local device, and stored in the cloud storage. At the same time, the local device is highly secured and managed, allowing IT administrators to control how user data, including organization-owned data, should be used.
Storing user profile in the cloud brings many benefits into IT administrator and users' hands.
True Ubiquity
Multi-Device Capability:
Files and folders created in the office are automagically stored in the cloud, without any user aware synchronization. These files can be accessed from other devices, including iPad.
Network Flexibility:
Unlike remote desktop and VDI, CloudDock can be used under unstable network conditions, and by enabling encrypted cache, user profile can still be accessed without any network connection. Ideal for heavy mobile users who can't always expect good internet connection during the trip.
Disaster Recovery and BCP
User profile centralized in the cloud storage means that device and user profile is no longer strongly stuck together, allowing users to instantly change the device and keep working in case of emergencies such as hardware trouble or device loss.
Since the cloud storage holds all user profiles in one place, creating a backup of the whole organization is a simple task. Replicating to a geographically remote location will enable a very effective disaster recovery plan. Even if PCs and the main data center hosting the cloud storage are lost from a natural disaster, all that users have to do is to get a new PC and login to the replicated cloud storage.
Branch Control
From the headquarters' point of view, branch offices and local retail stores could be regarded as mobile environment in a broader sense. Sensitive information such as customer lists and credit card numbers can be forcefully collected to the headquarter and managed securely. Ability to login from any device makes inter-branch personnel change also an easy task.
About Eugrid
Eugrid K.K. (CEO Minoru Ikeda) is based in Tokyo, Japan, and specializes in Software Thinclient Technology and Cloud Storage Technology. The award-winning technology has been approved by many Japanese customers including banks, universities, and TSE-listed manufacturing companies. Selected as the top 50 startups in Echelon 2013.