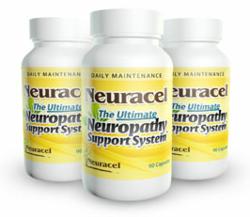 Boise, Idaho (PRWEB) June 04, 2013
According to the latest findings compiled by the Neuropathy Association at http://goo.gl/3XOi0, Diabetic neuropathy continues to be one of the most highly prevalent forms of neuropathy with an estimated 60 to 70% of adults with Diabetes suffering from its symptoms. The publication of these findings paints a gloomy picture as there are only a limited number of treatments available for the condition. What is worse is the fact that Diabetic neuropathy is not completely curable. However, there may still be hope to curb the number of effected individuals and provide an effective treatment as Neuracel, one of the pioneers in herbal medicine, has announced the introduction of an innovative and completely natural treatment, the Ultimate Neuropathy support system.
About the Ultimate Neuropathy Support System
Involving years of research and experimenting, the Ultimate Neuropathy support system has been designed with the sole purpose of providing patients with a way to fight off the menace, Diabetic neuropathy. Comprising of natural ingredients including 5 different herbs, the product reaches out to the root cause of the problem by helping patients manage the blood sugar levels and in the process repair the damaged nerves. To add to the benefits, its use has no known side effects. Thus, patients do not have to worry about other possible complications normally associated with medical painkillers and drugs.
About Neuracel
Neuracel aims to provide the ultimate treatment for neuropathy to help patients fight the symptoms of the severe condition. Neuracel's Ultimate neuropathy support system can easily be acquired on http://www.Neuracel.com/specialoffer.php. For general information about the company, kindly visit http://www.neuracel.com.