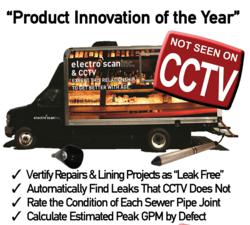 "Electro Scan represents a breakthrough in sewer condition assessment," states Chuck Hansen.
Sacramento, California (PRWEB) June 03, 2013
Electro Scan Inc., a global leader of pipeline defect detection instrumentation, smartphone, and cloud computing applications, today announced an agreement with Prism Contractors & Engineers, Inc. (Yorktown, Virginia) to conduct a 20,000 ft. Electro Scan project in Hampton Roads, Virginia.
A key objective for the project will be to Electro Scan all sewer mains in a designated area of a local sewer authority and provide specific locations for each defect and pipe segment, including an estimated peak infiltration rate in Gallons per Minute (GPM).
Sewer authorities in Hampton Roads are currently operating under a USEPA Unilateral Administrative Order (UAO) and a State of Virginia Department of Environmental Quality (DEQ) Special Consent By Order to reduce the frequency and severity of sanitary sewer overflows (SSOs) taking specific actions to develop a Regional Wet Weather Management Plan (RWWMP).
"Everyone knows that CCTV is a great tool to record alignment problems, grease, and other obstructions in sewer pipes during low-flow and dry weather conditions," states Chuck Hansen, Electro Scan's CEO. "But, rarely, if ever, can CCTV operators measure or even 'see' leaks, especially at joints, service connections, and in laterals. Since CCTV is typically never done during rainy conditions – when an operator would most likely 'see' a leak – and cannot be used when a pipe is full, it hasn't been an effective tool in finding infiltration. But, CCTV has been the only thing available... that is, until Electro Scan."
"Electro Scan represents a breakthrough in sewer condition assessment," states Chuck Hansen, former CEO of Hansen Information Technologies and an industry pioneer in CCTV and condition assessment technologies. "Electro Scan's ability to work in dry & wet weather conditions and when a pipe is partially or full of water, represents a new era in condition assessment. Available as an add-on to any existing CCTV truck, data is uploaded to our cloud-based Critical SewersTM application. Able to easily switchover in the field, Electro Scan & CCTV represent a total solution for sewer authorities, regulators, and engineers to help prevent sewer overflows, backups, and basement flooding."
"We are delighted to partner with Electro Scan for this important project," states David A. Reaves, P.E., Founder & President of Prism. "Working at a rate of 40-50 ft a minute, electro scan promises to be a great tool to quickly and easily locate 'hot spots' and to help pre- and post-rehab decision making."
Founded in 1997, Prism Contractors & Engineers, Inc. is a full service civil engineering, design, construction, and inspection firm with clients in the eastern United States. Equipped with three (3) IBAK CCTV trucks, Prism has completed over 1.5 million ft of NASSCO PACP-based CCTV projects since 2009.
Electro Scan products are designed in accordance with ASTM Standard F2550-06 and able to identify, locate, and measure defects. Premium users are provided an estimated peak rate of infiltration, by defect. In addition to assessing non-conductive pipe materials (e.g. asbestos cement, brick, clay, plastic, resin lining, reinforced concrete, etc.), Electro Scan assesses pipe diameters ranging from 3 to 60 inches (76 to 1500mm) and can determine if previously completed point repairs & lining projects are 'leak-free.'
About Electro Scan
Electro Scan Inc. is global leader in delivering pipeline defect detection instrumentation, smartphone, and cloud computing applications that meet the technological needs of wastewater utilities, commercial businesses, residential customers, and engineering organizations worldwide. Electro Scan's suite of next generation condition assessment technologies allows customers to manage, protect, operate and certify their infrastructure. In 2013, Electro Scan's ES-620 for Sewer MainsTM won the Joseph L. Abbott, Jr. 'Product Innovation of the Year' Award from the North American Society for Trenchless Technology (NASTT).