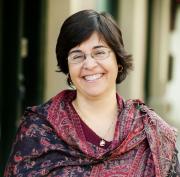 San Francisco, Calif. (PRWEB) June 02, 2013
Aperian Global, a leading provider of consulting, training, and web tools for global talent development, today announced that Anita Zanchettin, managing director of global talent strategy at Aperian Global, will be a featured speaker at the NASSCOM Diversity & Inclusion Summit focusing on women leaders in Bangalore, India, on June 4, 2013.
The presentation, "Building Key Global Leadership Behaviors for Women in Leadership," will address the issue of building a pipeline of women leaders and equipping them with strategies to negotiate a competitive environment while remaining collaborative. It will feature extensive proprietary research Aperian Global has conducted in this area and will culminate in the launch, partnering with NASSCOM, of a program to help women take the lead and to look through "new windows" rather than expecting others to "open doors." Geetha Kannan, a senior consultant for Aperian Global and an experienced HR practitioner, will join Zanchettin in facilitating the program.
Key take-aways for participants will include:

Increased awareness of global trends impacting women in global leadership
How to apply global leadership behaviors to their own leadership development
How to develop strategies for improved effectiveness in a global leadership context
Anita Zanchettin is responsible for Aperian Global's talent management strategy to ensure delivery of high quality client solutions worldwide. She has more than 25 years of experience consulting and training for Fortune Global 500 organizations in the areas of global leadership, global diversity and inclusion, global teams, and global business skills. Zanchettin is co-author of Global Diversity: Winning Customers and Engaging Employees within World Markets. She has lived in France, Iran, Kuwait, Saudi Arabia, Spain, and the U.S., and currently resides in Singapore.
# # #
About Aperian Global
Aperian Global provides consulting, training, and web tools for global talent development. Aperian Global's flagship product, GlobeSmart®, is a tool that has had over 400,000 registered users in 125 organizations worldwide and provides ready access to detailed information on how to conduct business effectively with people from around the world. Founded in 1990, the company has partnered with clients in more than 85 countries and has worked with more one-third of the Global Fortune 100, delivering over 2,000 workshops in 25 languages in the last year. The company has offices in Bangalore, Boston, Kolding, Paris, San Francisco, Shanghai, Singapore, and Tokyo. For more information, visit http://www.aperianglobal.com.
About NASSCOM
NASSCOM® is the premier trade body and the chamber of commerce of the IT-BPO industries in India, with more than 1300 members, which include both Indian and multinational companies that have a presence in India. A not-for-profit organization, NASSCOM's member and associate member companies are broadly in the business of software development, software services, software products, consulting services, BPO services, e-commerce and web services, engineering services, off shoring, and animation and gaming. NASSCOM's membership base constitutes over 95% of the industry revenues in India and employs over 2.24 million professionals. In India and around the world, NASSCOM members are active participants in the new global economy and are reputed for their innovative business practices, social initiatives and thrust for foraying into new emerging opportunity areas. NASSCOM's vision is to maintain India's leadership position in the global sourcing IT industry, to grow the market by enabling industry to tap into emerging opportunity areas, and to strengthen the domestic market in India. Further details about NASSCOM can be found on http://nasscom.in.