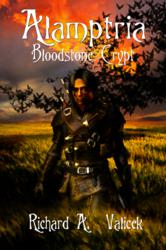 The Undead are lurking in the shadows
Toronto, Ontario (PRWEB) June 03, 2013
Richard A Valicek's Alamptria 1: Bloodstone Crypt, offering readers a newly-expanded narrative and updated title, has been released by Double Dragon Publishing. Hearkening back to the original vampire tradition, the exciting, danger-filled story catapults audiences into twists and turns of action, romance, and adventure. First released in 2011 as Alamptria: Red Moon Rising, the book was celebrated as unique and highly-readable, garnering it a Buzillions Reviewers' Choice Award.
Humankind is at stake when it finds itself under siege by blood-thirsty vampire legions swarming down from Mount Drone. The royal Seaton brothers in the kingdom of Elysium undertake the mission of finding the vampire scourge, including those posing as Elysians, with the help of sundry magical creatures and their army. Their efforts are thwarted when one of the brothers is bitten and begins the transformation to the undead, then the youngest's fiancé is kidnapped by the leader of the vampires. The Seatons race against the clock to restore peace and life to their people, and their family, before it's too late.
Good raging against powerful evil forces is a theme that is extremely apt in today's fractious times, making the book modern and fresh. Its style is classic, however, borrowing from the tradition as begun by Bram Stoker in his seminal Dracula. Readers have also likened the novel stylistically to works by J.R.R. Tolkien and J.K. Rowling.
Richard A. Valicek lives in Toronto, Canada.
Alamptria 1: Bloodstone Crypt is published by Double Dragon Publishing. It is available at all North American retailers as a trade paperback and online for the Nook, Ibook, Epub, Sony reader, Kindle and other formats.
Further information about Alamptria 1: Bloodstone Crypt can be found at http://www.alamptria.com or by calling 416-570-5655.