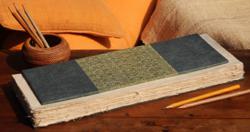 Stamford, CT (PRWEB) June 05, 2013
Sitara Collections is thrilled to welcome Marina Paper products to its array of fine gifts, jewelry, and textiles from India.
Nepal-based Marina Paper, which specializes in handmade papers and home goods, is sharing a line-up of journals, notebooks, and jewelry with Sitara Collections customers. "Marina Paper is the perfect addition to Sitara Collections because our company philosophies are so similar," Singh says. "At their core is a deep respect for the artisans behind the products, and we're committed to honoring those artisans through fair trade relationships and inviting a worldwide audience to experience their goods."
Marina Shrestha, a French architect who moved to Nepal in 1980 and promptly fell in love with its traditional handicrafts, launched Marina Paper in 1993 as a way to celebrate and preserve ancient artisan techniques. Every Marina Paper product is entirely handmade—from paper crafted of Himalayan Daphne shrubs to supple, plant-based vegetal "leather" covers.
In addition, like all of the gift items from India that Sitara Collections carries, all of the materials are responsibly harvested and eco-friendly. Marina Paper recycles any scraps left over from production; as a result, the company's workshops generate very little waste.
Of her dedication to sustaining time-honored Nepalese handiwork through the company's creative interpretations, Shrestha says, "One generation after another, countless hands have engaged in so many different creations. This is how I believe we can share and interact with the world: by connecting through time and through cultures, involving different artisans and their traditions in the same product until it reaches its final owner. Only handmade products withhold this vibrant and authentic quality of living things."
Media Contact:
Linda Singh
(888)-203-3110
Linda(at)sitaracollections(dot)com
About Sitara Collections
Sitara Collections was founded in 2007 by Linda Singh after several trips to India exposed her to the beautiful jewelry, clothing and gift items from India. The lines at http://www.sitaracollections.com include handcrafted 92.5 sterling silver and 18K gold jewelry made by artisans in India, as well as home décor, beauty and fashion items, and uniquely stylish lifestyle accessories. The line is also sold at select stores in Connecticut. As a measure of her respect for the artisans and the country itself, Singh donates a portion of the proceeds to a school in India founded by her husband, Vinay. For more information, visit the Sitara Collections web site at http://www.sitaracollections.com.
###
To browse Sitara Collections' selection of Marina Paper items, visit http://www.sitaracollections.com.