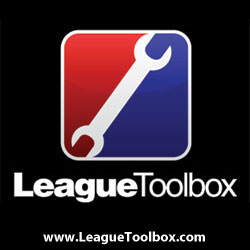 Importing offline league registrations made easy with LeagueToolbox
(PRWEB) June 13, 2013
"One of the biggest issues we hear from all sports leagues is the intimidation factor that exists concerning the transition of an offline league's registration process to an online format," stated Chris Christie, LeagueToolbox Manager.
LeagueToolbox announces full 24/7 customer support for all sports leagues wanting assistance with importing their fall leagues before, after or during their registration process.
"We quite often have leagues amazed with all our tools and features that solve so many hurdles they currently have running their league, but it seems the most frightening speed bump for most leagues is taking a league that has already started and whose offline registration is complete and taking it online now, rather than at the start of next season."
Chris mentioned, "Once we have people on the phone and explain to them that LeagueToolbox league management software offers a seamless transition from offline to online activity and registration is taken care of within this process, they sign up no matter what current stage their league is in."
"Think of LeagueToolbox as not only the solution to obstacles commonly experienced with offline sports league administration, but a tool that takes leagues to the level they should be at in today's 'instant' world," Chris explained.
"With our newly launched league app for both iPhone and Android, coupled with our integration with social media including Facebook and Twitter, all our leagues are reaching new levels of success." Christie added, "We treat every sports league the same way, no matter their size. We offer unlimited support with importing a league to our software and guarantee success."
"We encourage any sports league to get in contact with us and allow us to show them how easy it is with LeagueToolbox to eliminate the headaches and frustration associated with offline leagues and simplify all the processes involved at the flick of a switch!"
Christie also added that they currently are offering a free 30 day trial of their league software at http://www.LeagueToolbox.com.