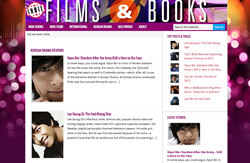 Korean Drama is among the most popular television in the world, with millions of viewers around the world
Toronto, ON (PRWEB) June 02, 2013
Korean Drama is among the most popular television in the world, with millions of viewers around the world, not just in normal fan bases of Japan, Taiwan, Hong Kong and China, reports Indie Films and Books Magazine. Korean drama popularity is credited to strong writing, deep characters (no one-dimensional stereotypes in Korean TV), and a growing list of beautiful superstars that delight massive fan bases.
Only a few Korean actors and singers rise to the status of Hallyu stars— "the Korean Wave", which came to be synonymous with international sensations. This week, the magazine profiles two stars who's career paths are quite different: returning superstar Hyun Bin, making his come back after his mandatory service in the Korean army, and rising singer-actor Lee Seung Gi. Both are famous for their natural good looks, beaming smiles and twinkling eyes, both have legions of fans, yet they couldn't be more different, reports Films and Books.
"Lee Seung Gi: The Fast Rising Star"
Lee Seung Gi's infectious smile, famous abs, popular drama roles and strong singing career, have made him a genuine superstar prospect. His likeable, playful personality charmed television viewers. His wide grin drew in the fans. But he was first discovered because of his voice—a powerful tone that fills an auditorium full of thousands of screaming fans.
Currently airing as the star of the Gu Family Book (Gugaui Seo, MBC, 2013), his previous hits included King 2Hearts, and the perennial favorite My Girlfriend is a Nine-Tailed Fox. Read more…
"Hyun Bin: Stardom After the Army—Still a Hero to His fans"
Hyun Bin is iconic of Korean stardom. He has the looks, the smile, the charm, the modesty, the "princely" bearing that wears so well in Cinderella stories—which, after all, is one of the attractive themes in Korean Drama. As Korean Drama continually finds new fans around the world, stars like Hyun Bin become world stars, no longer just "K-Stars."
Hyun Bin, also known as Binnie among his fans, is considered as one of the handsomest and hottest Korean stars worldwide. His looks plus his acting talent moved more women to fall in love with him; he has one of the biggest bases of hardcore fans in Korea, Japan, Hong Kong, all of Asia, and around the world.. Aside from dominating ratings in Korean drama, he was also cast in numerous films, product promotions, and music videos. Read more…
About Indie Films and Books
Since 2006, Indie Films and Books zine—affectionately known to early audiences just as Films and Books or as F&B—has been bringing the latest news, views, and reviews on independent (Indy, Indie) motion arts and publishing. We've focused extensively, though not exclusively, on all the news from the indie scene, including news about film makers, authors, debuts, funding, deals, publishing news, emerging actors and any interesting story with a focus on indie. Ultimately, by popular demand, this led to featured coverage of Bollywood, Korean Drama and Asian Film. We also focus on worthy self-publishing or self-funded film projects.
Indie Films and Books is published by Zines Online, a service of Persona Corp.