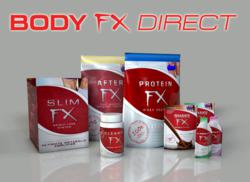 With Energy FX, I could feel the energy boost right away and it lasted smoothly all day.
Las Vegas, NV (PRWEB) June 02, 2013
Body FX Direct, the new competitor to companies like Beachbody and ViSalus that's winning key employees and customers away from them, had begun shipping their new products in mid-May. Body FX Direct customers have begun receiving the new Energy FX energy shots from Body FX Direct this week, as well as Slim FX, Protein FX and After FX. Cleanse FX had also begun arriving last week. Only Shake FX has yet to be received by all customers who ordered prior to May.
Body FX Direct had originally planned shipment of all products to begin at the start of May, and then due to unforeseen manufacturing delays, had stated Protein FX, Cleanse FX, and Slim FX, would be shipped a week later, and Energy FX, After FX and Shake FX would ship mid-May.
Nick Thorsch, a Body FX Direct Charter Coach and Independent Distributor, is excited to finally receive and try out the products. He's tried both the Cleanse FX and Energy FX so far.
Cleanse FX comes with a 10 day supply (2 pills, twice per day, morning and night) of a formulation designed to cleanse your liver, lymph, bloodstream, skin, kidneys, intestinal tract, and activate fat burning.
Considering most people indulge in alcohol, processed foods and other substances, Cleanse FX is designed to be a simple, natural way to pop some safe pills and let nature's gifts clean out the toxins to increase energy.
Cleanse FX is a potent combination of therapeutic plant ingredients such as Milk Thistle (helps the liver), Dandelion Root (helps the kidney and liver), Burdock Root (enhances detoxification in the bloodstream), Astragalus (enhances detoxification in the lymphatic system), Triphala (promotes detoxification in the digestive tract), and Lotus Leaf (jumpstarts metabolism for weight-loss).
Cleanse FX is best taken at the start of any weight-loss or muscle gain program, to ensure the body is clean and able to detoxify and process nutrients for maximal results in minimal time.
The price for Cleanse FX is just $3/day.
Nick Thorsch says, "Cleanse FX, coupled with drinking lots of water, exercise like hiking, eating organic foods and getting plenty of sleep, have made my body feel a lot cleaner, as in my blood flow and energy feel more at their peak than my typical sluggish feeling."
Energy FX is Pomegranate flavored. Body FX Charter Coach Nick Thorsch said, "With Energy FX, I could feel the energy boost right away and it lasted smoothly all day. It tastes great, just like 5-Hour energy or Red Bull. It's also a heck of a lot faster to down an energy shot than wait for coffee to brew or go to Starbucks. Before a hike, I was on 3 hours of sleep. I took an energy shot and felt great throughout the whole 6 hour hike, which included climbing a 3,000 year old tree in Mount Charleston too."
The innovative difference with Energy FX is the micro-encapsulated caffeine, which releases over 6 hours, rather than creating an energy spike and subsequent crash. It also helps avoid jitters, shakes, and anxiety.
Other energy shots and drinks rely on enormous doses of a variety of B-vitamins to achieve their effect; the problem being it's not time released and the B-vitamins are low-grade, cheap and possibly toxic. Cyanocobalamin is known to convert in the body to cyanide. Experts instead recommend a higher-grade version of B-12 known as methylcobalamin, but it's more expensive, and hence rarely used in consumer products.
Energy FX avoids this drama by using B-5, to help the body better convert food into energy; vitamin C to help the body cope better with energy-zapping stress; L-Theanine, to help create alpha brain waves for mental clarity; and the aforementioned micro-encapsulated caffeine, which helps provide sustained alertness, without the hormonal or sleep side effects. Each Energy FX shot is less than a typical Starbucks coffee.
Energy FX is just $0.69/hour of energy.
Energy FX, Cleanse FX, and all of the other Body FX Direct products, are now available for purchase online at http://body-fx-coach.com/
About Body-FX-Coach.com:
Body-FX-Coach.com is the place to buy Body FX Direct supplement products online. It was built and is supported by Charter Coach Nick Thorsch, a supplement and fitness expert. The store is currently open to sales of all Body FX Direct supplement products, which get shipped brand new directly from Body FX Direct.