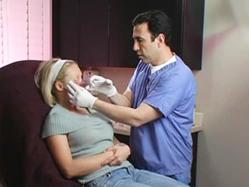 Los Angeles, California (PRWEB) June 04, 2013
As people age, skin care becomes more complicated. Age spots, wrinkles, and other skin irregularities appear. Now, according to a May 24, 2013 NBC 'Today' article titled, "Thinking about Botox? A Peel? Best Fixes for Your Skin," skin care fixes are available at every price level. Botox, dermal fillers, and other treatments can help repair these problems, and, in recent years, such treatments have become significantly more affordable (Go to goo.gl/cM3YR).
"There are many treatments we can offer our patients depending on their condition and aesthetic goals," says Dr. Simon Ourian, Medical Director of Epione Beverly Hills. "This report provides a nice overview, but I'd always recommend seeing a cosmetic dermatologist who can offer a customized treatment plan."
According to the article, photodynamic therapy (PDT) treatments can work on the worst cases of acne and a series of six to eight treatments are recommended. In conjunction with light-sensitizing chemical known as Levulan, doctors often use PDT to kill bacteria in the pores. This combination can actually put severe acne into remission.
As people age, says the report, smoothing wrinkles becomes a high priority. Fortunately, many affordable treatments now exist to rejuvenate skin and minimize the look of fine lines and deeper wrinkles. Botox has become the favorite go-to treatment for many and works by paralyzing small muscles in the forehead and other locations to smooth out the skin's surface. These treatments can last up to six months, and if started while the patient is young enough, may keep wrinkles from ever forming.
"Dermal fillers are another skin care treatment that provides a more youthful look," says Dr. Ourian. "These fillers are injected directly under the skin to plump it up, and some help stimulate the growth of new collagen."
Dr. Ourian has been a pioneer in laser technology and non-invasive aesthetic procedures including Restylane, Juvéderm, Radiesse and Sculptra. These treatments are used for the correction or reversal of a variety of conditions such as acne, acne scars, skin discoloration, wrinkles, stretch marks, varicose veins, cellulite, and others. More information about affordable skin care treatments can be found on Epione's website.