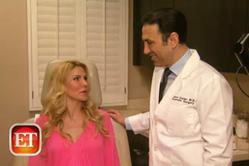 Los Angeles, California (PRWEB) June 07, 2013
Jennifer Garner is an A-list Hollywood star married to the A-list actor and director Ben Affleck. For the June 17, 2013 issue, Life & Style Weekly sat down with celebrity cosmetic dermatologist Dr. Simon Ourian to discuss the aesthetic procedures Ms. Garner may or may not have undergone over the years including dermal fillers, Botox, and rhinoplasty. (go to goo.gl/62NWh)
Regarding Ms. Garner's nose, Dr. Ourian, Medical Director of Epione Beverly Hills, had this to say: "Her nose at age 25 appears to have an indentation. I don't see it now, which suggests she may have had a corrective nose job."
Ms. Garner's cheeks appear to have been given a boost, says Dr. Ourian. "Her cheeks appear more prominent and less gaunt. This may be the result of injections with long-lasting fillers such as Radiesse or Sculptra." Ms. Garner's lips may have benefited from a dermal filler injection or perhaps her own fat to add volume. Another possible option is injecting Botox above the upper lip to cause the muscles to relax and pull less on the lips.
Finally, says Dr. Ourian, for Ms. Garner's forehead to appear smoother today than in her 1998 photo, it's appears she's had Botox injections. "At Epione, we offer an Ultra Brow Lift specifically to address forehead lines and tightening the forehead causes the brows to rise."
Dr. Ourian has been a pioneer in laser technology and non-invasive aesthetic procedures including Restylane, Juvéderm, Radiesse and Sculptra. These treatments are used for the correction or reversal of a variety of conditions such as acne, acne scars, skin discoloration, wrinkles, stretch marks, varicose veins, cellulite, and others. More information about cosmetic surgery can be found on Epione's website.