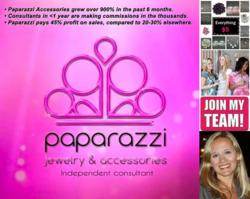 Make summer SIZZLIN' with Paparazzi's best ever consultant promotion, the Summer Party Pack.
West Kaysville, Utah (PRWEB) June 02, 2013
Paparazzi Accessories, which sells the popular line of $5 Paparazzi Jewelry through direct sales, has announced that during the month of June, new consultants who join by buying the $300 kit will receive 25 free pieces of jewelry (a $75 value). That's 25% more jewelry and accessories for free than is normally included in the kit of 100 pieces. This is the biggest offer promotion that Paparazzi Accessories has ever done.
Debbie Parkin, a top Paparazzi Jewelry consultant by sales and team size, says "Make summer SIZZLIN' with Paparazzi's best ever consultant promotion, the Summer Party Pack. It contains a total of 25 free bonus pieces including assorted rings, hair accessories, necklaces, bracelets, and earrings in a variety of colors and styles. This jewelry can be resold for 100% profits, so they are a great way to fuel Summer sales and start a Paparazzi Jewelry business! Take full advantage of this offer now because this promotion ends June 30th, 2013."
Paparazzi Accessories is a fast growing company that offers every woman the chance to feel confident and beautiful on a budget. Paparazzi Accessories does this by selling trendy, beautiful, well-crafted jewelry and accessories for the low and affordable price of just $5 each. Every necklace, bracelet, pair of earrings, and hair accessory is only $5! This is why Paparazzi Accessories is very popular among women everywhere. Women literally get excited over Paparazzi Accessories and Jewelry.
To become a Paparazzi Independent Consultant, it requires the purchase of a Starter Kit. This includes everything needed to jump-start a Paparazzi business. The size of the Starter Kit will determine the number of popular necklaces, bracelets, and more. The most popular Paparazzi Starter Kit is the $300 one. This comes with 100 pieces of jewelry and accessories as well as many business materials.
To find out more about the Paparazzi Accessories business opportunity or to sign up as a Paparazzi Independent Consultant with proven Paparazzi team leader Debbie Parkin, visit DebbiesDazzlingDivas.com.
About DebbiesDazzlingDivas.com:
DebbiesDazzlingDivas.com was created by Debbie Parkin to be a central recruiting website to add new consultants to all of her Divas' downlines, as a bonus for joining her team.