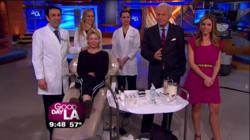 Los Angeles, California (PRWEB) June 05, 2013
Most people turn to plastic surgery expecting to get a physical transformation that will improve their sense of self and change their lives. According to a May 14, 2013 ABC News article titled, "Unlicensed Plastic Surgery Blamed in Woman's Death," this is not always so, especially for victims of unlicensed practitioners who are not trained to appreciate and deal safely with the risks associated with these medical procedures (Go to goo.gl/9LGVI).
"It is unfortunate that it takes a tragedy like this to make people aware of the dangers that are associated with any medical procedure," says Dr. Simon Ourian, Medical Director of Epione Beverly Hills. "And I emphasize that this was a medical procedure. For some reason consumers often don't equate elective cosmetic treatments with other medical procedures and protect themselves accordingly."
According to the article, Minerva Rodriguez of the Bronx decided she wanted a buttock augmentation, a procedure to increase the volume of the buttocks and make it appear rounder, fuller and uplifted. However, instead of going to a hospital or plastic surgery clinic, she had the procedure done in an apartment in the Bronx. Toxic levels of lidocaine were injected and Minerva began to feel ill and vomited uncontrollably. She was rushed to the hospital but died just a few hours later.
"As the physician quoted in the article stated, the amount of lidocaine injected and number of incisions made indicates that the practitioner was not a doctor," says Dr. Ourian. "I can't advise strongly enough that people see a properly trained physician for their medical cosmetic issues."
Dr. Ourian has been a pioneer in laser technology and non-invasive aesthetic procedures including Restylane, Juvéderm, Radiesse and Sculptra. These treatments are used for the correction or reversal of a variety of conditions such as acne, acne scars, skin discoloration, wrinkles, stretch marks, varicose veins, cellulite, and others. More information about the potential dangers of plastic surgery can be found on Epione's website.