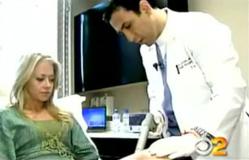 Los Angeles, California (PRWEB) June 06, 2013
According to a May 9, 2013 ABC News article, titled "Lap Band Alternatives Await FDA Approval," as a response to the nation's obesity epidemic, there's been a rise in weight loss surgeries. Over the years, some procedures have been more popular than others. Complications from these types of plastic surgery are usually minimal, but there are always risks involved. There are a few alternatives to lap band surgery that are awaiting FDA approval (Go to goo.gl/7Jr8U).
"I don't perform weight loss surgery myself," says Dr. Simon Ourian, Medical Director of Epione Beverly Hills, "but I often deal with stretch marks, one of the consequences of rapid weight loss."
According to the report, New Jersey Governor Chris Christie recently announced that he had undergone lap band surgery in order to lose weight. This procedure is less invasive than others and results in a slower weight loss. Many people use this weight loss option instead of gastric bypass plastic surgery because it is easier, requires less recovery, and has lower risks involved. Still, over 90 percent of patients who receive this surgery report suffering from at least one complication. The most common problems include excess bleeding, infection, and abdominal pain.
One procedure awaiting FDA approval according to the article is the intragastric balloons. In this procedure, a doctor inserts a balloon into the stomach and inflates it, leaving the stomach with less room to store food. Studies have shown that this procedure has led to a loss of 20 percent of body weight in just six months. There are little risks involved and the device can be easily removed at any time.
Finally, the article reports that the EndoBarrier is a long, flexible tube that looks like a plastic bag. It is attached to the bottom of the stomach and a small amount of intestine. This device is based on the idea behind gastric bypass, but does not permanently change the stomach. Food never comes in contact with the intestines, so digestion is delayed and a person's appetite is lowered. Studies show that results are very good. The FDA is expected to approve the use of this surgery by 2017.
"I look forward to FDA approval of safer weight loss options for our patients," says Dr. Ourian.
Dr. Ourian has been a pioneer in laser technology and non-invasive aesthetic procedures including Restylane, Juvéderm, Radiesse and Sculptra. These treatments are used for the correction or reversal of a variety of conditions such as acne, acne scars, skin discoloration, wrinkles, stretch marks, varicose veins, cellulite, and others. More information about new weight loss treatments can be found on Epione's website