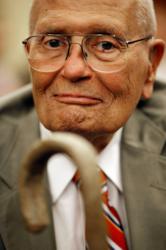 In free governments, the rulers are the servants and the people their superiors. For the former to return among the latter does not degrade, but rather promotes them." --Benjamin Franklin
(PRWEB) June 05, 2013
12 is Enough, a term limit group, has launched a new web video that focuses on Congressman Dingell's long career in politics. The video's aim is against career politics, not Mr. Dingell personally. The new video can be seen on YouTube. The group's founder, Ian Clark, believes term limits would allow more great Americans to take part in our democracy. He often points to a quote from Benjamin Franklin saying, "In free governments, the rulers are the servants and the people their superiors. For the former to return among the latter does not degrade, but rather promotes them."
ABC's "This Week" host George Stephanopoulos interviewed Congressman John Dingell June 2 on his Sunday morning show. He was also a guest on Comedy Central's "The Colbert Report" on June 3rd. The focus was on Mr. Dingell becoming the longest serving Congressman in United States history. Mr. Dingell became a member of congress in 1955.
The "This Week" segment walked through Mr. Dingell's long career in politics. He started in the Congressional page program in 1939. In 1955 he was elected to congress, taking the seat from his father. His father John Dingell Sr. represented Michigan's 15th district from 1933 to 1955, according to the show.
George Will, a long time guest to "This Week," made his feelings on career politicians known in the book "The Politics and Law of Term Limits", he said, "Term limits would increase the likelihood that people who come to Congress would anticipate returning to careers in the private sector and therefore would, as they legislate, think about what it is like to live under the laws they make."
Mr. Dingell has cast over 25,000 votes in congress. George Stephanopoulos asked what he thought was his most important vote. Mr. Dingell responded saying, "I have to tell you, the one that I'm most proud and I think was the most important, was the vote I cast on the civil rights bill, that allowed citizens to vote. The country was being torn apart by the denial to our people the right to vote. And that began a process that cured it. So a black American citizen is now sitting in the white house."
When asked about the biggest change in congress since he began his career he said "Refusal to compromise. An absolute reluctance to work together. Compromise has become a dirty word. And this is a great shame. The founding fathers intended some quite different."
People can see the new video about term limits from 12 is Enough at http://www.youtube.com/watch?feature=player_embedded&v=SV7BmwfIGv0
.
About 12 is Enough:
12 is Enough has the goal of ending career politics in Washington with term limits. The group was founded by Ian Clark, a leader in the term limit movement. To learn more about the organization please visit http://www.12isEnough.com for more information.