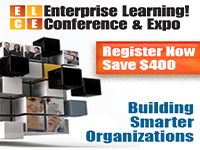 More than 60 executives are presenting at ELCE, many from Learning! 100 organizations. There is no greater way to leverage their expertise and knowledge than to create a learning opportunity for our industry.
Corona, CA (PRWEB) June 02, 2013
Elearning! Media Group (EMG), publishers of Elearning! and Government Elearning! magazines, announced today the finalists for the 2013 Learning! 100 Award. The Learning! 100 Award recognizes 60 corporate and 40 public sector organizations for outstanding learning culture, innovation or collaboration that drives performance. Honorees cut across all industries and organization sizes, from 5 to 1.6 million employees.
The final Learning! 100 rankings will be revealed at the Awards Dinner and Reception held at the Enterprise Learning! Conference & Expo (ELCE), on August 26 at the Marriott at the Convention Center, Anaheim, Calif. Many of the high-performing organizations are also tapped to present at the Conference being held on August 26-28, 2013, at the Anaheim Convention Center. This year's theme is: Building Smarter Organizations. Over the three-day conference, co-located with the California HR Conference, executives can access more than 120 sessions and 200 exhibitors. Attend ELCE to network, learn and share with the Learning! 100.
"More than 60 executives are presenting at ELCE, many from Learning! 100 organizations. There is no greater way to leverage their expertise and knowledge than to create a learning opportunity for our industry," cites Joe DiDonato, Awards Chair and ELCE Conference Director. "These leaders not only developed high-performing, innovative organizations, they are mentoring and coaching future leaders attending ELCE."
Learning! 100 Conference Programming
The Learning! 100 programming embraces key challenges that organizations face. Starting Monday, the Learning! 100 keynote addresses the CEO-CLO partnership. The best minds in enterprise learning from VMWare and Hertz will share their insights, strategies and outcomes.
Other Learning! 100 sessions are embracing the re-invention of learning.

"Learning! 100: Re-inventing Education in a Federal Agency," is being presented by Alice Muellerweiss, Founder of Muellerweiss and Associates and former dean, Department of Veterans Affairs. She will share the strategy that led to a non-traditional training model that reached more than 200,000 employees nationwide in the first nine months that resulted in a staggering ROI. Potential attendees who are interested in evolving or building their organization's learning model should attend this session on Monday.
John Moxley, Cricket Communications, presents "Learning! 100: Mobile Learning & Gamification at Cricket U." Moxley, in Cricket U's second year of using mobile learning and gamification, takes attendees on a deep dive into Cricket U's learning platform UI, initial games, and going beyond learning to reinforce behaviors. See his session on Tuesday.
"Learning! 100: Social Learning Communities Keep Users Engaged and Growing," presented by Jeanne Beliveau-Dunn, VP of Learning@Cisco, will share how the company leverages a variety of tools and communities to help customers, partners and employees realize the benefit of social learning. See her session on Tuesday.
The learning continues on Wednesday with a full day of sessions dedicated to the Learning! 100.
Starting the day is "Learning! 100: Innovations at Work." See how The Juilliard School, known for performing arts, takes music online to the corners of the world. Hear how the Defense Acquisition Academy launched a new Teaching and Learning Lab (TALL). The goal was to research and assess emerging technologies, methodologies and best practices for possible deployment within both DAU's online and resident course offerings.
Jerry Roche, Editorial Director, Elearning! Media Group, will also host a panel on "Learning! 100: Learning Culture." See how American Heart Association, Vi and Scripps Health instill unique learning cultures to employees, volunteers and patients.
Joe DiDonato, Editor-at-Large, Elearning! Media Group will host Verizon and SuccessFactors in the session titled, "Learning! 100: Sales Performance." Attendees will meet two Learning! 100 first time honorees, who unleashed their sales training programs to achieve outstanding results. Hear how Verizon leveraged a multi-week, pre-and post-enablement process that delivered lasting behavior changes while creating a sense of global community.
The day ends with an open forum for attendees and Learning! 100 leaders to meet and discussion topics. Join the Learning! 100 Roundtables and make new connections that can last a career.
The 2013 Learning! 100 Private and Public Sectors Honorees Are:
AAA Northern California, Nevada & Utah Insurance Exchange
Active Network
Advanced Distributive Learning Initiative, Undersecretary of Defense Office
American Bankers Association
American Heart Association
Ascension Health Information Services
Audatex
Banque Nationale du Canada
BBVA Compass
Bechtel
Boeing
Bridgepoint Education
CA Technologies
Carrington Holding Co
Cayman Islands Civil Service
Choice Logistics
Cisco
Coursera
Craig Technologies
Cricket Communications
CSC
Discover Financial Services
E-learning for Kids
Eci Acsellerate
Edu1world
Fairfax County Police Department
Fairway Independent Mortgage
Farmers
Federal Government Distance Learning Assn
First Insight Corporation
Florida Virtual School
Hilton
Hitachi
IBM - Center for Advanced Learning
Mexican Institute for Learning Research on Electronics & Computers (IMIAMEC)
International Federal of Red Cross & Red Crescent Society
Joint Training Integration Evaluation Center
Kelly Services
Khan Academy
Kuerig
Lawrence Livermore National Laboratory
LeapFrog
LiftPort
LinkedIn
McDonalds Hamburger University
Michigan Virtual University
MillerCoors
Morrison - TouchPoint
Mountain America Credit Union
MTR Corporation
NASA STEM
National Archives and Records Administration
National Defense University
National Parks Service, Dept of Interior
Navy Federal Credit Union
Neiman Marcus
North Shore-LIJ Health System Foundation
Oracle
Orange County's Credit Union
Paul Ekman Group
Professionals in HR Association
Qlik Technologies
Raytheon
Redhat
Roche Pharmaceuticals
SAIC
Salesforce.com
SCC Soft Computer
Scripps Health
Shaw Industries
Southern New Hampshire University
Stanford University - H-STAR Institute
SuccessFactors
Symantec
Terasem Movement Foundation
The Army National Guard Bureau, Distrbutive Learning Network
The Hertz Corporation
The Juilliard School
Toshiba American Business Solutions
United NationsDept of Peacekeeping
University Central Florida
U.S. Air Force, ATN
U.S. Customs Advanced Training Ctr, School of Command Preparation
U.S. Department of Defense
U.S. Department of Veterans Affairs
U.S. Distance Learning Assn
U.S. Office of Personnel Management
USAA
USC, Institute of Creative Technologies
Verizon
Vi
ViaSat
VMWare
Western Governors University
Westinghouse Nuclear
Wounded Warrior Program
Yum! Brands, Inc
Meet the Learning! 100 at ELCE
Celebrate excellence and attend the Learning! 100 event and sessions hosted at the Enterprise Learning! Conference & Expo, August 26-28, 2013. Select from a variety of conference options from two- to three-day. Network at Monday's opening receptions, Learning! 100 Awards Dinner and Tuesday Night Party. Join the Learning! 100 track on Wednesday and tap expertise not found in one room, anywhere.
Register now to reserve your three day conference pass. Early bird rates can save you up to $400 when booked by June 15. Learn more at: http://www.elceshow.com. To learn about sponsorship opportunities, contact Sales at 888-201-2841 x842 or email sales(at)2elearning(dot)com.
About Elearning! Media Group
Elearning! Media Group, owned by B2B Media Group, LLC, consists of 12 media products: Elearning! Magazine, Government Elearning! magazine, e-magazines, e-mail newsletters, Alerts, website, Web Seminar Series, Elearning! Institute, Enterprise Learning! Summits and Enterprise Learning! Conference & Expo. Elearning! Media Group serves the $160 billion enterprise learning market. In combination, these brands reach more than 2 million executives, practitioners and professionals, all evaluating or implementing enterprise learning and workplace technologies across their organizations each year. Suppliers and practitioners can follow us: online at http://www.2elearning.com; on Twitter: 2elearning, #ELCE13, #ELS13; via Facebook: Elearning!-Magazine; and, LinkedIn: Elearning! Magazine Network or Enterprise Learning! Events.
About Enterprise Learning! Conference & Expo
Since 2008, Enterprise Learning! Events bring onsite and online audiences together to learn, network and share. Mark your calendar for Enterprise Learning! Conference & Expo, the exclusive learning and workplace technology marketplace, Aug. 26-28, 2013, at the Anaheim (Calif.) Convention Center. Enterprise Learning! Conference & Expo hosts the Best of Elearning! Awards and Learning! 100 Awards. The Enterprise Learning! Conference & Expo Virtual edition is slated for October 3, 2013. For more information about the Enterprise Learning! Conference & Expo visit http://www.elceshow.com