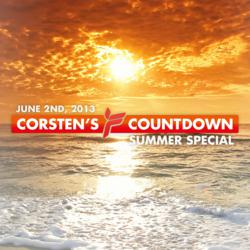 New York, NY (PRWEB) June 03, 2013
On Sunday, June 2nd, broadcast live from Dublin, Ireland, world famous DJ and producer Ferry Corsten pulled off his third eight-hour live broadcast known for his weekly interactive Corsten's Countdown show. This broadcast was known as "Corsten's Countdown Summer" and went by the Twitter hashtag #CCSUMMER. Drawing a staggering online audience the world over, the broadcast again became a Twitter top-trending topic in countries including the U.S., the Netherlands, the UK, Indonesia, Honduras, Brazil, Chile, Argentina, Mexico and others. Its request-driven playlist included tunes from some of electronic dance music's (EDM) biggest names, such as, Armin van Buuren, Tiësto, Steve Aoki, Nicky Romero, and Markus Schulz, in addition to Ferry Corsten himself. Through its fully interactive website, listeners drove the playlist, with the broadcast coming to be dubbed, "the most interactive radio show ever."
In the month leading up to the Corsten's Countdown Summer special, the dedicated Corsten's Countdown web portal drew many thousands of track requests as fans readied themselves for the show. As the live broadcast got underway at 9:00AM ET, listener interaction spiked and then went through the roof. Fans tuning in began to vote in real time for their personal "top 3" tracks, dozens of which ultimately became part of the show's final playlist. Listeners requested their favorite summertime tracks and Corsten shared them via the website and broadcast, thereby generating immense fan interaction across social media platforms. Top tracks were put by Corsten through head-to-head battles with the audience voting via the website; winning tracks were added to the mix.
The show featured call-in interviews and a gripping live performance by Christian Burns performing his track with Ferry Corsten and Chicane, "One Thousand Suns," as well as Burns' collaboration with Armin van Buuren, "The Light Between Us."
Of the reaction to his epic third eight-hour live worldwide broadcast, Corsten said, "It's amazing to see how my fans have stayed and enjoyed my eight-hour special. Although this is my first Corsten's Countdown summer special, I'm happy to see how the listeners have grown immensely since my first Corsten's Countdown special last year. Thank you all for being a part of the show!" Regularly dubbed online as, "the most interactive radio show ever," the last two hours of the show featured a new video component, with fans able to 'join' the specially invited audience in-the-studio to watch as the show built to its final climactic "Top 10" countdown. Corsten's classic anthem, "Beautiful," became the number two track of the countdown as listeners from around the world sun along on social media and caused the song to trend in the U.S., Indonesia, Japan, Argentina, Mexico, Spain, France, South Africa, India, Russia, the UK, the Netherlands and Germany…all at once! The final "Top 10" of this Corsten's Countdown episode is as follows:
10 Armin van Buuren ft Ana Criado, "Suddenly Summer"
09 Giuseppe Ottaviani & Ferry Corsten, "Magenta"
08 Sunlounger & Zara, "Lost"
07 Imogen Heap, "Hide And Seek" (Ferry Corsten Bootleg)
06 Arty & Mat Zo, "Rebound"
05 Ferry Corsten ft Betsie Larkin, "Made Of Love" (Super8 & Tab Remix)
04 Chicane & Ferry Corsten vs Christian Burns, "One Thousand Suns" (LIVE)
03 Ferry Corsten, "F The Bull$h1t"
02 Ferry Corsten, "Beautiful"
01 New World Punx, "Romper"
Fans can relive the entire broadcast at on-demand by visiting http://live.corstenscountdown.com.
For more information, contact EMILY TAN Media Relations, +1(917) 318-3758, EmilyEmilyTan(at)aol(dot)com.