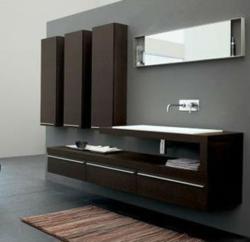 The craft work on these vanities meet the highest of European standards which will put consumers at ease
Dallas, Texas (PRWEB) June 05, 2013
The Interior Gallery recently launched a whole new range of modern bathroom vanities and cabinets complementing their current extensive bathroom furniture collection. The timing of the launch was during the Memorial 2013 weekend which also marked the beginning of summer.
The company had all the new bathroom vanities specifically designed for them. The new designs also took into account customer feedback which the company had been receiving from customers. Home owners who are planning to have their bathroom renovated will be pleased to know that The Interior Gallery is offering discounts on their entire range of bathroom vanity sets.
Some of the latest vanities on offer include the single and double bathroom vanity sets which are all made from high quality solid wood, porcelain, glass or granite. The craft work on these vanities meet the highest of European standards which will put consumers at ease.
According to a spokesperson for the company, summer is the best time for customers who are into interior home renovation works. It is also one of the busiest season for the company as they rush to fulfill customer orders who are taking advantage of the promotional prices that are currently on offer.
The bathroom vanity sets usually include bathroom cabinets, mirrors and sinks. Customers have the option to include additional items such as faucets to their purchase. These are usually recommended by the company at an affordable price.
The Interior Gallery offers nationwide shipping in the United States as well as to Canada. Customers get to enjoy tax free shipping except for those who are located in Texas.
Consumers could check out the latest bathroom cabinet designs at http://www.TheInteriorGallery.com or visit the company's huge showroom in Allen, Texas. The company's showroom houses all the actual products for customers to look through with friendly staff on hand to offer recommendations and suggestions. Customer service could also be reached at toll free 866-205-6867 while the showroom is open to the public from Monday to Friday (9am - 6pm), Saturday (10am - 6pm) and closed on Sundays.