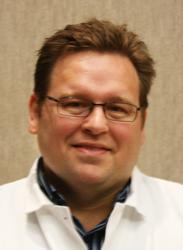 Palmyra, WI (PRWEB) June 03, 2013
David Schroeder, a microbiologist at Standard Process Inc., has been accepted into the International Association for the Advancement of High Performance Thin Layer Chromatography (HPTLC). The association collaborates on HPTLC methodology and techniques in plant analysis and other analytical fields. Schroeder gained extensive experience while developing Standard Process' botanical identification (ID) program. The program was developed over a four-year period as part of Standard Process' extensive quality assurance program. It is used to identify incoming raw materials from Standard Process' certified organic farm and other ingredient sources.
Leading HPTLC expert, Eike Reich, Ph.D., director of CAMAG Laboratory in Muttenz, Switzerland, invited Schroeder to join the exclusive association saying, "The board believes that you [Schroeder], as one of the most dedicated practitioners of HPTLC in the United States, will make a valuable contribution to our mission."
"Being asked to join the HPTLC Association by Dr. Reich is great recognition for the work that David is dedicated to doing," says Schroeder's supervisor, Quality Control Manager Sandy Jankowski. "Everyone at Standard Process is very proud of David for achieving this huge accomplishment."
As a member of the association, Schroeder will collaborate on HPTLC projects with other organization members worldwide. Working alongside members such as Reich and Roy Upton, R.H., DAyu, founder and executive director of the American Herbal Pharmacopoeia, Schroeder will choose projects that will assist him in further developing Standard Process' botanical ID program.
Standard Process is committed to cultivating a philosophy of high quality principles and to the continuous improvement of quality, training and best practices. The company's team of quality control scientists works meticulously to guarantee the highest quality whole food supplements are available.
About Standard Process Inc.
For more than 80 years, Standard Process, headquartered in Palmyra, Wis., has provided high-quality, nutritional whole food supplements through health care professionals. Standard Process offers more than 300 products through three product lines: Standard Process whole food supplements, Standard Process Veterinary Formulas and MediHerb herbal supplements. The products are available only through health care professionals.
Standard Process is involved in every step of production. The company grows crops on company-owned, organically certified farmland, utilizes state-of-the-art manufacturing processes, and employs the highest quality control standards. Standard Process strictly adheres to the Food and Drug Administration's good manufacturing practice requirements. Through these measures, Standard Process can ensure that its products are of the utmost quality and potency. Standard Process was named a Top 100 Workplace in Southeastern Wisconsin a number of times and is a member of the Inc. 5000 Honor Roll.
For additional information about Standard Process, visit standardprocess.com.