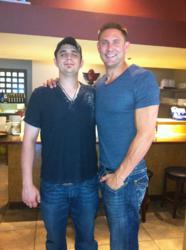 Monroe Wisconsin (PRWEB) June 03, 2013
Scott Ryan Tischler of Tischler Brothers Fitness unveils how to lose 90 pounds of fat this summer.
1. Support group. This is important. If you have someone who works out with you and supports you fantastic, if not join a Facebook page for support or even a fitness blog. It is important to associate with other fitness minded individuals.
2. Heart rate. So many people spend countless hours on the treadmill or bicycle with no results. The reason why is they did not elevate their heart rate high enough. Scott Tischler recommends a version of the H.I.I.T(High Intensity Interval Training). Basically you do a plyometric exercises as hard and fast as possible getting your heart rate to peak performance, then taking a very short break and repeating. By doing this your fat will instantly begin to vanish.
3. Diet. Everyone knows diet is important, and if you want real results quickly, this little twist will help you melt the fat off. For the first 2 weeks eat only protein and vegetables. Cut out all the carbs for two weeks. This will force your metabolism to really start burning the fat. Cut out all sugar, alcohol and carbs. Eat only clean proteins such as grilled chicken, fish or lean meat.
4. Measure your progress. Take pictures, step on the scale once a week, measure yourself, track your work outs. If you measure your progress you will see results.
5. Pace yourself. Rome was not built in a day. Do not over do your work outs in the beginning. Give yourself 30 minutes to 60 minutes 4-5 times a week and then go home. Over training will ruin your results.