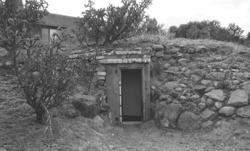 "Visitors will get to look at her work space, the items she left there, her varied interests as shown in her library, and walk back in time to a cold war-era shelter, as well as learn, O'Keeffe's reason behind its construction."
Santa Fe, New Mexico (PRWEB) June 03, 2013
The Georgia O'Keeffe Museum announces that it will offer a new "Behind the Scenes Tour" at the artist's Home and Studio in Abiquiu, New Mexico, starting June 12, 2013.
Visitors to the Home and Studio now have the opportunity to walk into the room behind the black patio door that inspired O'Keeffe to purchase her Abiquiu home, a subject she painted many times over, and where she prepared her canvases. Visitors will also see O'Keeffe's book room with her vast library collection and tour the fallout shelter she had built on the property in the early 1960s.
The new tour will run from June 12 to August 28, 2013 on Wednesday evenings at 7:00 p.m. and costs $60.00.
"The only evening tour of the Home and Studio, our new tour provides visitors with an opportunity to glimpse into the life of Georgia O'Keeffe rarely seen by the public," said Agapita Judy Lopez, director of historic properties. "Visitors will get to look at her work space, the items she left there, her varied interests as shown in her library, and walk back in time to a cold war-era shelter, as well as learn O'Keeffe's reason behind its construction."
Georgia O'Keeffe (1887-1986) bought her house in Abiquiu in 1945, which is now owned by the Museum. The 5,000-square-foot Spanish Colonial-era Abiquiu compound was in ruins in 1945, and for the next four years, O'Keeffe supervised its restoration, which was carried out by her friend, Maria Chabot. She moved from New York to make New Mexico her permanent home in 1949, and lived either at the Abiquiu or Ghost Ranch houses until 1984, when she moved to Santa Fe.
For Reservations (Daily Tours & Behind-the-Scenes Tours)
Georgia O'Keeffe Home and Studio
P.O. Box 40
Abiquiu, New Mexico 87510
505.685.4539 Telephone
http://www.okeeffemuseum.org For Online Reservations
Group Tours
Tours of the exterior areas of the house may be arranged for larger groups, please call 505.685.4539
ABOUT THE GEORGIA O'KEEFFE MUSEUM:
The Georgia O'Keeffe Museum is dedicated to the artistic legacy of Georgia O'Keeffe, her life, American modernism, and public engagement. The Museum's collections, historic properties, exhibitions, Research Center, publications, and education programs contribute to scholarly discourse and inspire diverse audiences. Located in Santa Fe, NM, the Museum's collections, exhibits, research center, publications and education programs contribute to scholarly discourse and serve diverse audiences. The largest single repository of the artist's work in the world, it is the only museum in the world dedicated to an internationally known American woman artist and is the most visited art museum in New Mexico.
FOR MORE INFORMATION, PLEASE CONTACT THE MUSEUM DIRECTLY:
505.946.1000
217 Johnson Street
Santa Fe, NM 87501
505.946.1000