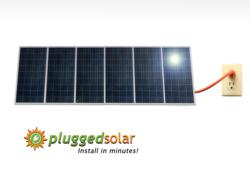 "The kit was easy to assemble and the system preforms as advertised. When I contacted the seller with questions they were quick to respond and helpful. If you are looking for a DIY way to get into solar power this is it."
J. H., Jefferson, WI
Houston, TX (PRWEB) June 04, 2013
PluggedSolar uses a breakthrough technology to allow for solar panels to be simply plugged into the household electric plug socket while following the local utility requirements of interconnection with the grid power. The Plugged Solar Kit is designed as a 'do it yourself (DIY)' installation. It cuts the cost of solar energy in half and consequently makes solar electricity cheaper than what we get from the conventional environmentally damaging electricity. The homeowners can use their weekend time to install it themselves or may call a local handy-person to do the work. Normally it takes a day to install this system.
PluggedSolar produces about 3000 kWh of electricity every year. The table on the right shows that this is enough to drive an electric car for an entire year. Based on fueleconomy.gov data, the electric consumptions of the 2013 models of electric cars are calculated in the table.
This table shows if electric car owners install the 1.7KW PluggedSolar using 125 sq.ft. of area with a net cost of $2K(approx.), they will be no longer need conventional fuel to drive the car. When purchasing an electric vehicle, buyers should consider PluggedSolar as an option for providing energy. Solar Photovoltaic is a proven technology and solar panels are being installed around the world at a rapid pace. Solar panels have a life of more than 25 years, which lets you drive free of cost forever.
PluggedSolar was invented and introduced to the market by Ensupra Solar LLC, a Texas based corporation. The inventor and CEO of the company, Sunil Sinha, wishes and dreams that "there will be a day in the near future when every home will be powered by solar energy and every car will be charged by solar power, generated right at home."
For more information, please contact
Email: info(at)pluggedsolar(dot)com
Phone: 1 (281) 712-2757
http://www.pluggedsolar.com