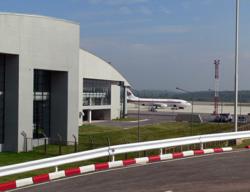 The average daily spend of Russian tourists in Thailand is the highest among all European visitors to the kingdom
(PRWEB) June 04, 2013
According to figures obtained by Krabi Riviera Co., Ltd from Thailand's Department of Civil Aviation, arrivals at Krabi International Airport (KBV) on the Andaman coast of Thailand increased by 30% in the first third of 2013.
There were 213,453 passenger arrivals at the airport in the four months leading up to and including April 2013, compared with 164,161 for the same period last year and a mere 50,377 in 2003, showing an incredible 425% growth in visitor numbers to Krabi over the past decade.
These statistics only count domestic arrivals to the airport, which comprise both Thais and foreign travelers arriving on connecting flights from Bangkok, averaging around 10 – 12 flights per day. However, neither land nor sea travel, nor – perhaps most importantly – direct international flights to Krabi have been included in the figures.
With the opening of a second international terminal at Krabi Airport in late 2012, there are now daily scheduled flights from Singapore and Kuala Lumpur in Malaysia, as well as an increasing number of large 300 – 400 seater charter planes arriving from Scandinavia and Russia during the winter months.
Charter flights from Krasnoyarsk in Siberia and Moscow's Domodedovo Airport due to end in March were extended through the green season months of April and May, indicating the increase in Russian interest in Krabi as a holiday destination. Though Russian tourists have been visiting Pattaya and Phuket for many years, it is only recently that Krabi and Koh Samui have benefited from their custom.
According to a recent report in The Bangkok Post newspaper, the average daily spend of Russian tourists is the highest among all European visitors to Thailand, at US$135 (3,920 Thai Baht) per person. The Tourism Authority of Thailand has projected that Russian tourist arrivals in Thailand as a whole will pass 2 million people this year.
Krabi businesses are rushing to take steps to accommodate the new influx of Russian visitors, from signage and menus in Cyrillic script, to full blown websites in Russian language, such as Krabi Riviera's villa rental site dedicated to the Russian market.
"We have seen a marked increase in Russian guests in our villas over the past year," says Pierre-Yves Loriers, Managing Director of Krabi Riviera. "We have been actively marketing our properties in this market for a while and the recent extension of flights from Russia only confirms that this is the way forward."