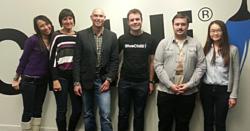 Sydney, NSW, Australia (PRWEB) June 03, 2013
Divvy Parking (http://www.divvy.com.au) is excited to announce that it has provided Pyrmont residents with over $100,000 in combined earnings in the last 12 months by simply renting their car spaces to professionals working in the area. Everyday 1,700 residents drive to work leaving their car space vacant when it could be earning them up to $3,300 every year. Statistics show that another 1,461 dwellings in Pyrmont don't own a car.
Divvy has made the rental process easy, quick and safe. Residents are able to list their spaces for free with their availability schedule. Divvy then matches the space to our trusted member base. Divvy handles the booking, swipe card collection, payments, invoices, and bond. All payments are made monthly in advance.
"Our members look for long-term affordable parking during business hours as parking stations are just too expensive and the surrounding streets only accommodate short-term parking. Our rates are 40% cheaper than parking stations and it is worth avoiding the fines." said Nick Austin founder of Divvy.
Making better use of under-utilised car spaces in high demand areas makes sense. Commuters are crying out for a better solution. Divvy's solution empowers the community to solve the parking crisis once and for all. Being part of the solution means that you rewarded with an extra income stream. "Let's face it, Sydney is expensive and using your car space to help pay the bills makes a lot of sense."
Since inception in 2011, Divvy has experienced huge demand in all business districts, including Surry Hills and Sydney, where parking alternatives are expensive and inadequate. We have just celebrated 50,000 booked parking days and will launch a mobile app soon to make it easier to get involved.
Divvy also makes it easy for residents to rent to other residents in the same building. Some residential buildings have restrictions on leasing car spaces, but this doesn't mean that they are not in demand.
Divvy is easy to use:

It's free
Takes just two minutes to register your space on http://www.divvy.com.au
Owners of car spaces gain access to a trusted commuter community
Divvy handles the whole process, making it easy for time poor people
Divvy continues to work with councils and community groups
"It is probably no surprise that Sydney is one of the most expensive cities in the world to park, and parking fines are skyrocketing. We are excited to part of the parking solution and look forward to helping thousands more make money from their under-utilised car spaces." says Nick Austin.
To celebrate 50,000 booked parking days, we are offering every new member a $25 bonus on their first booking during June.
About Divvy:
Divvy Pty Ltd launched their website in October 2011. Divvy is an innovative Australian company who has been voted as one of the Asia's most promising tech start-ups. Divvy is focused on solving the parking crisis using smart technology. At the core we are making better use of the things we have. Everyday thousands and thousands of residential car spaces sit vacant in areas where parking is inadequate and very expensive. Divvy connects commuters with these residents who have a vacant car space during the day. We continue to work closely with the community, councils and other strategic partners to develop and deliver a sustainable solution to our parking crisis. We believe an active community is a powerful force and we are providing the community with the tools to make a real difference where traditional methods have failed.
With the proven business model, Divvy has also received a seed round of investment from Blue Chilli, a venture technology firm based in Sydney and selected to exhibit at Echelon 2013 (Asia's Largest Tech Conference) in Singapore this week.