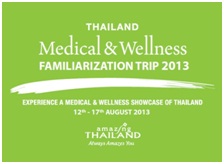 Bangkok, Thailand (PRWEB) June 04, 2013
Medical tourism facilitators, travel agencies who are interested in selling medical and wellness products, as well as media and bloggers are eligible to apply before the June 20 deadline. There are openings for a total of 50 places.
Designed to showcase Thailand as a world-class Medical & Wellness destination, the six-day trip will be fully funded by the TAT, including airfare, hotels, transfers and meals. The event will consist of 2 main activities:
1. Trade Conference & Business Meeting on 13 August 2013
1.1 Product Presentation & Discussion Forum
o Plastic Surgery
o Fertility
o Anti-aging Medicine
o Cell Therapy & Regenerative Medicine
o Holistic Medicine Using Thai Herbs
1.2 One-on-One Meetings with Local Businesses (scheduled appointments)
2. Educational and awareness program: TAT will take buyers and media to visit high-quality local providers such as Accredited Hospitals, Cosmetic Surgery Clinics, Anti-aging & Regenerative Medicine Centers, Fertility Centers, Dental Centers, Dermatology Clinics, Medical & Wellness Spas, and Luxury Health Resorts.
The TAT will ensure that buyers and media stay completely up-to-date on the products and knowledge that Thailand has to offer, and engage them in tourism activities that potential medical travelers would enjoy, enabling buyers to better sell them to their clients.
To apply, please go to http://www.thailandmedtourism.com/tradefam/buyerregistration.php
The TAT will review all applications and respond to selected participants by the end of June.
For more information, please e-mail buyerfamtrip(at)ThailandMedtourism(dot)com
Further details are available at http://www.thailandmedtourism.com/TradeFAM