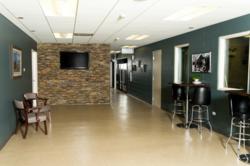 Maxon Shooter's Supplier's Shooting Range and showroom is sure to please its customers and members alike with its clean, modern design. RestaurantFurniture.net helped create a contemporary, sharp look and style that will help create a positive atmosphere
(PRWEB) June 04, 2013
Leading restaurant furniture distributor helps Maxon Shooter's Supplies, Inc. open a new shooting facility with top quality stools and tables.
Restaurant furniture manufacturer and supplier RestaurantFurniture.net has helped Maxon's Shooter's Supplies and Indoor Range recently open a new 16,000 square foot, state-of -the-art shooting facility located in Des Plaines, Illinois.
When one enters their new facility, they walk into a beautiful viewing gallery. There, spectators can enjoy a cup of coffee or soda and snack at one of the pub tables and watch and admire the diverse weaponry being shot in their 10 position, 75ft. rifle range.
Maxon Shooter's has a spacious showroom, with beautiful, modern decor. It is still a gun shop with a wonderful selection of firearms and accessories, but with a new modern, refreshing look and feel. Another viewing window is located in the showroom that allows one to watch the shooters in the 10 position, 75 ft. pistol range.
Adjacent to the range are two classrooms, which can be rented out to instructors to utilize and train their private students. Maxon Shooter's Supplies offers a referral service to all customers of instructors and the different disciplines they specialize in. The classrooms are also used for private shooting events. These rooms may also be used for corporate events, bachelor and bachelorette parties, birthday parties, or any celebrations that needs a new and exciting venue.
Among the vast range of quality commercial furniture RestaurantFurniture.net offers includes a mix of bar stools and table tops. Maxon Shooter's Suppliers owner Claudia Levin chose to complement the modern, state of the art décor with sleek Swivel Bar Stools with a Chrome Double Ring Frame & Bucket Seats with Black Vinyl Upholstery for $46. The bar stools are comfortable, stylish and help give the viewing gallery a sophisticated look.
RestaurantFurniture.net also provided Maxon Shooter's Suppliers with 30" X 30" Solid Wood Table Tops with Walnut finish which match beautifully to the decor of the viewing gallery as well as to the Swivel Bar Stools.
Maxon Shooter's Supplier's Shooting Range and showroom is sure to please its customers and members alike with its clean, modern design. RestaurantFurniture.net helped create a contemporary, sharp look and style that will help create a positive atmosphere.
To browse all of RestaurantFurniture.net's wide selection of chairs, bar stools, tables, booths and patio furniture visit http://www.restaurantfurniture.net or call a customer service representative at (888) 409-1115.
For more information on Maxon Shooters Supplies contact 847-298-4867 or visit http://www.maxonshooters.com.